Air force and navy begin annual military exercises
The military began annual drills yesterday, featuring the air force's major warplanes and the navy's anti-submarines, to test their capabilities in conducting joint warfare amid rising military pressure from China.
The air force's backbone fighters — F-16Vs, Mirage-2000 5s, domestically made Indigenous Defense Fighters and P-3C submarine-hunting aircraft — and the navy's S-70C anti-submarine helicopters and drones have been dispatched from bases around the country to take part in joint drills since their commencement at 6:22am yesterday, a military source said.
The drills are set to run through Thursday, and test the air force and navy's capabilities to conduct joint warfare, the source added.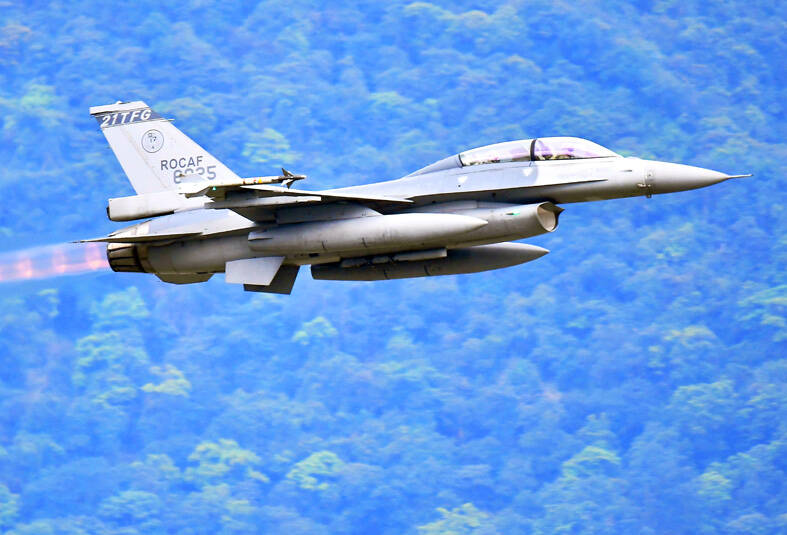 A two-seater F-16V takes off from the Hualien Air Force Base yesterday in joint live-fire exercises.
Photo: You Tai-lang, Taipei Times
The air force has recently launched a workshop at the Hualien Air Force Base, featuring pilot instructors who teach aerial maneuvers and tactics to pilots of F-16Vs, Mirage-2000 5s and Indigenous Defense Fighters.
The actions come amid rising cross-strait tensions, as Chinese warplanes regularly enter into the nation's air defense identification zone and warships sail near Taiwan's waters.
The drills are held annually and are preparation for bigger military exercises such as the annual Han Kuang drills.
Comments will be moderated. Keep comments relevant to the article. Remarks containing abusive and obscene language, personal attacks of any kind or promotion will be removed and the user banned. Final decision will be at the discretion of the Taipei Times.