White Terror descendant urges government for remembrance action
Tiana Lee (李欣怡), a descendant of a political prisoner during Taiwan's White Terror era, on Saturday called for more government action to preserve and pass on the stories of those who were politically persecuted under authoritarian rule.
"Pass their stories to future generations, then their sacrifices will be worthwhile," the Kaohsiung-based musician said at an event hosted by the National Human Rights Museum.
The annual event, held each spring at Jingmei White Terror Memorial Park in New Taipei City, pays tribute to people who were prosecuted, imprisoned or executed for political reasons by the Chinese Nationalist Party (KMT) from 1949 to 1992, a period known as the White Terror era.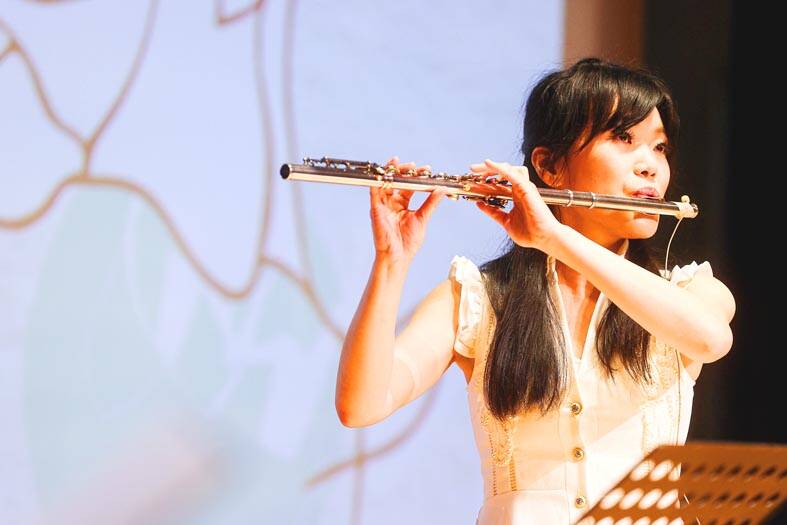 Tiana Lee plays the flute at an event hosted by the National Human Rights Museum in New Taipei City yesterday.
Photo: CNA
Lee said that the stories of those political prisoners should be preserved by the government and included in school curricula.
The museum's database shows that Lee's grandfather Lee Shun-fa (李順法), a 40-year-old business operator, was sentenced to 15 years in prison in 1953 after being accused of financing so-called "communist spies."
He was executed a year later by order of Chiang Kai-shek (蔣介石), the database shows.
Lee Shun-fa was pardoned by the Executive Yuan in 2018.
Tiana Lee said her grandfather was not the only one in the family to face political persecution. For decades, her parents refrained from mentioning those events out of safety concerns.
Only after she learned how her grandfather died did she begin sifting through political archives and visiting historical sites to learn more about her grandfather.
Minister of Culture Shih Che (史哲) said he is committed to preserving the history of the White Terror era through documents, images and other forms.
Since its preparatory office was established in 2011, the museum has interviewed more than 500 former White Terror-era political prisoners and their families to document their experiences, the museum said.
This period of Taiwanese history should not be shrugged off as "an event in the past" and be remembered only by a small group of people or any particular political party, Shih said.
It is the responsibility of all Taiwanese to remember, pay tribute to and reflect upon what happened during the era so that history does not repeat itself, he added.
The event on Saturday was also attended by Control Yuan President Chen Chu (陳菊) and dozens of other former political prisoners from the White Terror era, as well as their family members and descendants.
Jingmei White Terror Memorial Park was once the Taiwan Garrison Command Martial Law Bureau, where Chen, who also chairs the National Human Rights Commission, and former Vice President Annette Lu (呂秀蓮) were detained after pro-democracy protests in 1979.
Comments will be moderated. Keep comments relevant to the article. Remarks containing abusive and obscene language, personal attacks of any kind or promotion will be removed and the user banned. Final decision will be at the discretion of the Taipei Times.