Soccer body's rising debt questioned
'FISCAL MISMANAGEMENT': A debt that has ballooned by more than 1000 percent in six years has led to months of missed payments on wages and services, a lawmaker said
Lawmakers on Thursday criticized the Chinese Taipei Football Association (CTFA) for incurring years-long debts to contractors, after officials at the soccer governing body asked for a government bailout.
The organization is carrying about NT$90 million (US$2.95 million) in debt, as revealed by lawmakers during recent legislative sessions.
The CTFA is seeking financial restructuring through austerity programs, including the termination of some youth soccer programs, it said.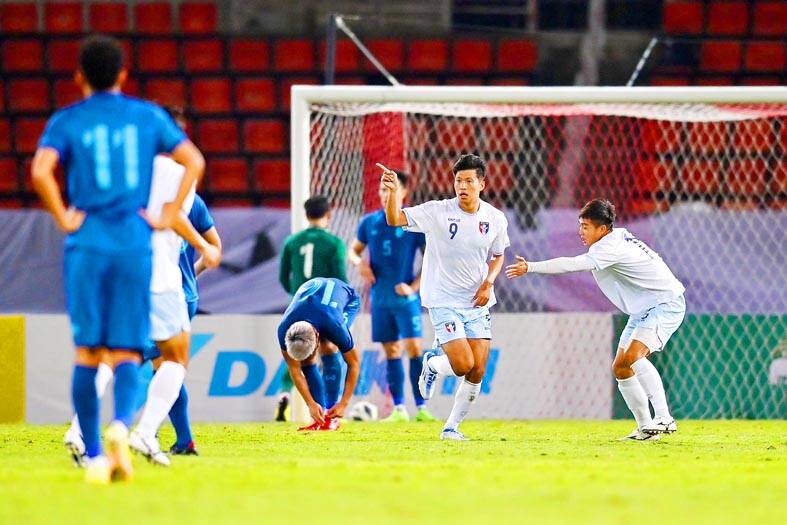 Taiwan's national team competes against Thailand on Dec. 15 last year.
Photo: CNA
Deputy Minister of Education Lin Teng-chiao (林騰蛟) said that he has ordered the body to revamp its fiscal management and trim spending.
Lin said the Sports Administration, as an agency under the Ministry of Education, has allocated NT$26 million for the CTFA this year, adding that soccer's international governing body, FIFA, provided US$1.3 million to the organization.
New Power Party (NPP) Chairwoman and Legislator Claire Wang (王婉諭) said she has received numerous complaints about alleged mismanagement financial troubles at the CTFA.
She said on social media on Friday that the complaints came from referees, contractors and travel agencies, among others.
The CTFA has "delayed paying wages and bills, and is persistently in debt," Wang said, adding that money has been owed for months on services such as travel, accommodation, site rentals, equipment and physiotherapy.
"The CTFA told their debtors that the Sports Administration was to blame," she said.
Wang said the CTFA had mismanaged its finances and failed to take remedial measures when financial problems surfaced.
Accounting reports showed that the CTFA was NT$8 million in debt in 2017, which rose to NT$31 million in 2018 and NT$50 million in 2020, Wang said.
Chinese Nationalist Party (KMT) Legislator Cheng Cheng-chien (鄭正鈐) also questioned sports officials on the matter.
Lin told Cheng that the Sports Administration has asked the CTFA to draft a financial restructuring plan, and said he would monitor the situation while seeking ways to better support the nation's soccer programs.
New CTFA chairman Wang Lin-hsiang (王麟祥) said he met with government officials for guidance and to request funds, and vowed to balance the budget within four years through austerity programs.
Comments will be moderated. Keep comments relevant to the article. Remarks containing abusive and obscene language, personal attacks of any kind or promotion will be removed and the user banned. Final decision will be at the discretion of the Taipei Times.