Freddy Lim to retire from politics, look after family
Independent Legislator Freddy Lim (林昶佐) yesterday announced that he would not seek re-election next year, citing a desire to retire from politics and care for an ill family member.
Lim said in a statement that he has a family member who has been ill with "a rare disease" for two years, prompting his decision to retire.
Lim thanked Democratic Progressive Party (DPP) Taipei City councilors Liu Yao-ren (劉耀仁), Wu Pei-yi (吳沛憶) and Jocelyn Hung (洪婉臻) for demonstrating a spirit of cross-party cooperation in working with him, despite being busy preparing for next year's elections.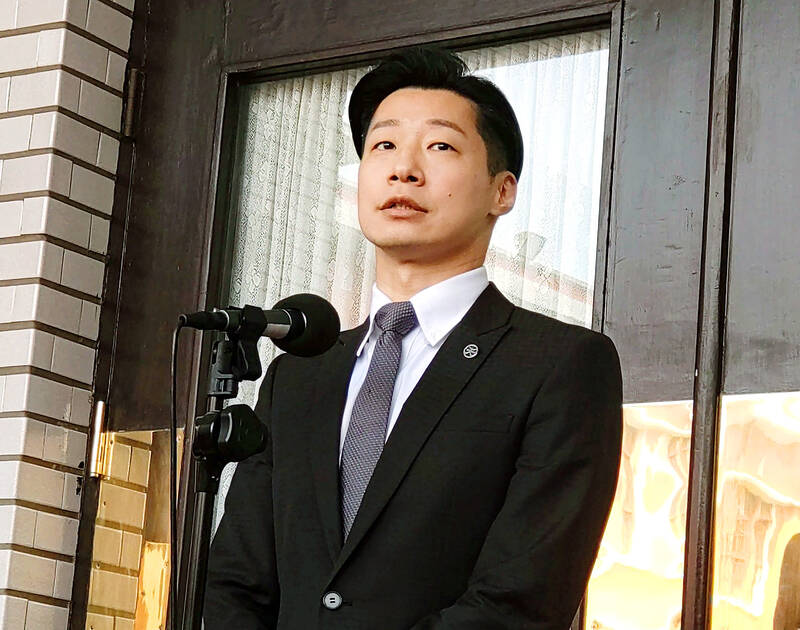 Independent Legislator Freddy Lim speaks to reporters outside the legislature in Taipei yesterday.
Photo: Yang Cheng-yu, Taipei Times
He would fully support the DPP's candidates, he said.
"Members of the DPP and other government officials have repeatedly urged me over the past few days to reconsider, and it is with a heavy heart that I make this decision," he said.
DPP spokesman Chang Chih-hao (張志豪) said that Lim had always been regarded as a "high-quality legislator," who had been a partner to the DPP on many occasions.
"We regret to see Lim go, but we respect his decision. We will take his choice not to run into consideration when nominating our own candidates," Chang said. "During his tenure, he successfully promoted many progressive bills and made possible the completion of many construction projects."
Lim said that his constituency — Taipei's fifth electoral district covering Zhongzheng (中正) and Wanhua (萬華) districts — is considered a challenging one, but he believes that a good candidate with new strategies and good energy could bring positive change.
"Everyone's worry is that if I do not run, the Zhongzheng and Wanhua constituency will regress, but I believe this will open the seat up to someone with more positive energy, increasing the impetus for progress there," he said.
Lim said his aim as a legislator had been to act as a bridge for change with the districts' talented young people, to help them realize their vision for Taiwan.
"Bringing together young people has always been an important task for me," he said.
In his remaining time in office, he would continue to work hard for the constituency and seek ways to work toward his goal of Taiwan being seen as a "normal country with dignity," he said.
Lim told reporters that his decision not to run had to be made as early as possible to give the DPP time to prepare a candidate for the constituency.
DPP Taipei City Councilor Wang Shih-chien (王世堅) had previously expressed interest in contesting the constituency.
Additional reporting by Chen Cheng-yu
Comments will be moderated. Keep comments relevant to the article. Remarks containing abusive and obscene language, personal attacks of any kind or promotion will be removed and the user banned. Final decision will be at the discretion of the Taipei Times.