UK lawmaker suggests Finland-style reserves
The chairman of the British House of Commons' Defence Select Committee has urged Taiwan to study Finland's reservist model as it looks to bolster its population's readiness amid heightened military threats from China.
British lawmaker Tobias Ellwood made the remarks in an interview with the Central News Agency, in which he expressed concern about the "erosion of security" due to the West's "complacency" and inadequate support for democracies since the fall of the Soviet Union.
He described the world as being already "in the foothills" of a new cold war, which could see increased alignment between Russia and China, and the fragmentation of the world into two "spheres of competing influence."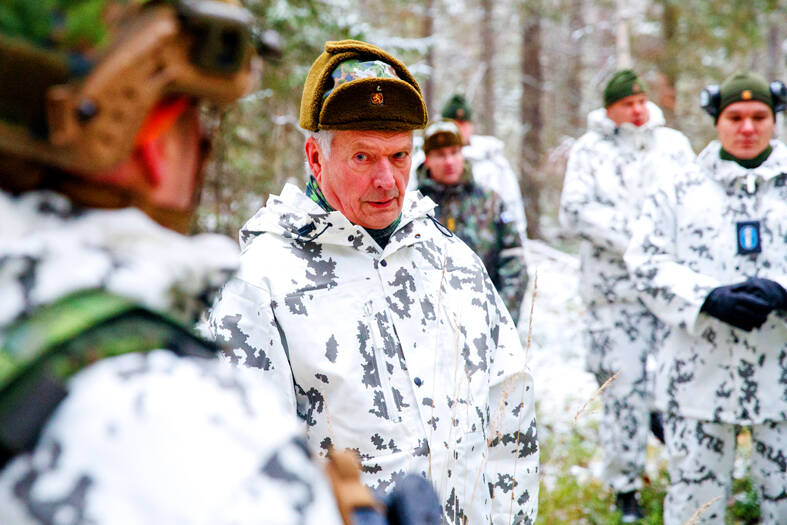 Finnish President Sauli Niinisto attends a military exercise in Nurmes, Finland, on Nov. 29 last year.
Photo: EPA-EFE
The international response to Russia's invasion of Ukraine would set a "precedent," he said, adding that China watches the developments closely, understanding them as a "rehearsal" for what might happen if it attacks Taiwan.
Ellwood said he is aware of the pressure China is putting on Taiwan, with actions designed to incrementally increase "the boundaries of what is acceptable, what is normal behavior."
The UK, the US and other allies should work together more closely to develop a strategy, as Beijing would not change its behavior unless the West "stands up to defend what we agree is acceptable."
Ellwood said that efforts to maintain freedom of navigation through regular transits of the South China Sea require greater attention.
Ellwood said he supports the expansion of frameworks like the Quadrilateral Security Dialogue, comprising the US, Japan, India and Australia, to include other countries that would help give "strategic security direction" to the region.
A type of dialogue, in which all players are invited to "start looking at their own security challenges and [find] solutions," would make sense for the Indo-Pacific region, Ellwood said, adding that such a forum "could actually include China as well."
Regarding Taiwan's self-defense, he said the government should study Finland's reservist concept, as it is "the best in Europe" in keeping former conscript's training up to date.
In the Finnish model, "you might only do one year in uniform, but then you go back every three or four years for a top-up," said Ellwood, a reservist who previously served in the British armed forces.
According to the Finnish model, "if there ever was a case to mobilize the country, you have people that are very familiar with what they would do in a worst-case scenario," he said.
Ellwood, who visited Taiwan late last year as part of a multinational parliamentary delegation from the German Marshall Fund of the US, said he hopes to visit the nation again with members of the Defence Select Committee.
The committee is planning to travel to Washington, and possibly Ukraine and India this year, he said, adding that a visit to Taiwan is a "consensus we have as a committee [and] I certainly hope it won't be too long."
Comments will be moderated. Keep comments relevant to the article. Remarks containing abusive and obscene language, personal attacks of any kind or promotion will be removed and the user banned. Final decision will be at the discretion of the Taipei Times.