China would choose war if 'peaceful unification' impossible, US officials say
Beijing would only opt for war if "peaceful unification" is no longer an option, the head of the US intelligence community said on Thursday at a hearing of the US House of Representatives Permanent Select Committee on Intelligence.
"It is not our assessment that China wants to go to war," US Director of National Intelligence Avril Haines said at the hearing when asked about the consequences for the global and Chinese economy if war were to break out in the Taiwan Strait.
Beijing would prefer to achieve unification through peaceful means rather than by using force, Haines said, adding that the challenge is that China is "utterly committed to unification" and Chinese President Xi Jinping (習近平) "has made it quite clear that something has to happen."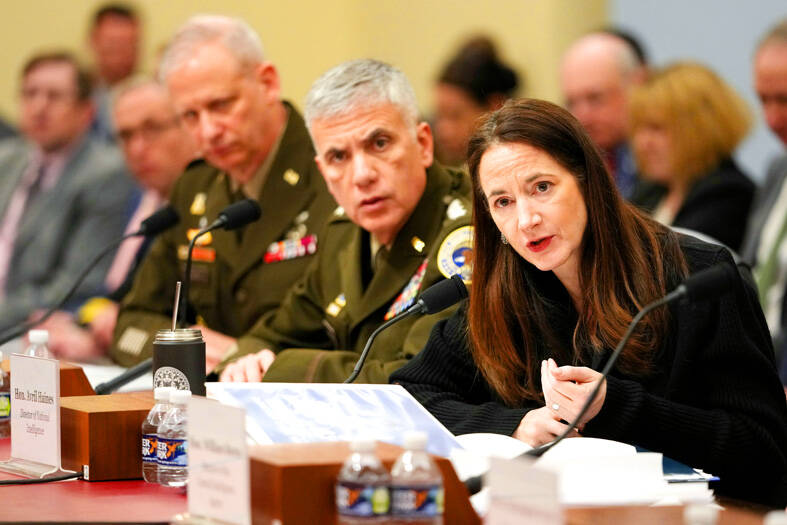 US Director of National Intelligence Avril Haines, right, speaks at the US Capitol in Washington on Thursday.
Photo: AP
If "they believe peaceful unification is not an option, then [there is] the potential for actually trying to achieve it militarily," Haines said.
"Studies show that it would actually have an absolutely enormous implications for the global financial economy if there were disruptions to Taiwan semiconductor production," she added.
There is no evidence that Xi has made a decision to invade Taiwan, CIA Director William Burns said, adding that he nevertheless would not underestimate Xi's ambitions.
"I do think that nobody has watched more intently [Russian President] Vladimir Putin's experience in Ukraine than Xi Jinping has," Burns said.
"I think he's been sobered to some extent, at least it's our analysis, by the extent to which the West was able to maintain solidarity and absorb some short-term economic costs in the interest of imposing even greater long-term economic costs on Russia," he said.
"That's something that President Xi has to weigh as he comes out of zero-COVID, tries to restore Chinese economic growth, tries to engage with the rest of the global economy," Burns said.
The economic factor of a potential war would "weigh significantly in the calculus of the Chinese leadership," he said.
As in a hearing before the US Senate on Wednesday, Thursday's hearing highlighted just how grave the US considers the threat posed by China.
However, the testimony from Burns and Haines offered a counterpoint to US lawmakers — and some military officials — that China is primed to invade Taiwan, possibly as early as 2027.
Asked whether the US should drop its longstanding position of "strategic ambiguity" on Taiwan, Haines cited US President Joe Biden's repeated statements that the US would defend against a Chinese attack.
Biden's aides have repeatedly said that his comments do not reflect a change in the US position, but "I think it is clear to the Chinese what our position is, based on the president's comments," Haines told lawmakers.
Additional reporting by Bloomberg
Comments will be moderated. Keep comments relevant to the article. Remarks containing abusive and obscene language, personal attacks of any kind or promotion will be removed and the user banned. Final decision will be at the discretion of the Taipei Times.