Hong Kongers call on Oscars to disinvite Yen
Hong Kongers in Taiwan are to stage a protest in Taipei today, urging the Academy Awards Committee to withdraw its invitation to Hong Kong action star Donnie Yen (甄子丹) to serve as a presenter at the Academy Awards ceremony on Sunday.
They said Yen had repeatedly expressed staunch support for China's suppression of democracy protests in Hong Kong in 2019, following the Hong Kong government's introduction of a controversial security bill.
"As a globally recognized film award, the Oscars should represent respect for human rights and moral values, rather than support actions that violate them," they said in a written petition filed on Change.org.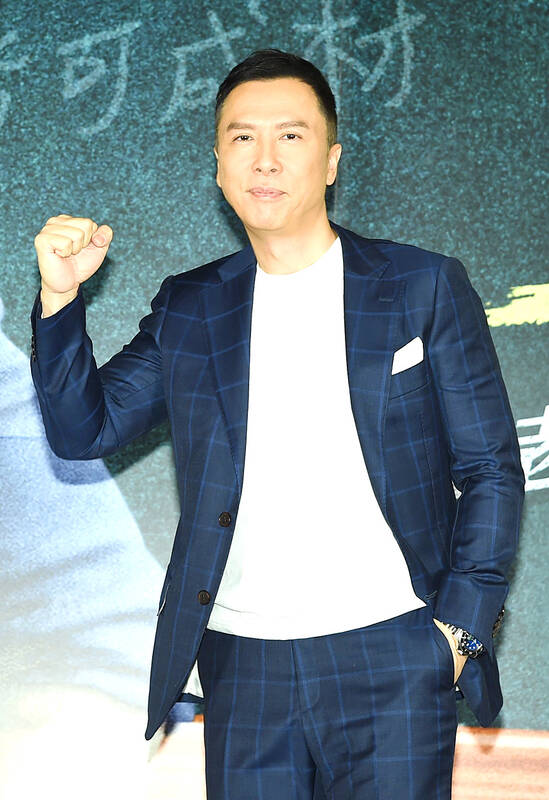 Hong Kong action star Donnie Yen is pictured in Taipei on Aug. 13, 2018.
Photo: Sung Chih-hsiung, Taipei Times
"Donnie Yen is a supporter of the Chinese Communist regime and has made several remarks in support of the Chinese government's policies, including supporting the implementation of the National Security Law in Hong Kong and accusing Hong Kong protesters of being rioters," they said. "These remarks not only violate the spirit of freedom of speech, but also deny the rights of the people of Hong Kong to fight for their freedom and democracy."
"We strongly condemn this decision, which not only shows contempt for the people of Hong Kong, but also provokes the global public. If the Oscars Committee continues to invite such a person as a guest presenter, it will damage the image and reputation of the film industry and cause serious harm to human rights and moral values," they said.
"We demand that the Oscars Committee reconsider this decision and cancel the invitation of Donnie Yen as a presenter for the Oscars," they added.
As of 7pm yesterday, more than 85,000 people had signed the petition.
The petition was initiated by Hong Konger Henry Tong (湯偉雄), who now works as a fitness instructor in Taiwan after being acquitted of all charges of participating in pro-democracy protests.
"What happened in 2019 in Hong Kong was a group of protesters who expressed their appeals peacefully. Suppression by Beijing and Hong Kong police have forced protesters to protect themselves by force. To me and many Hong Kongers, we are fighting a tyranny," Tong told Radio Free Asia in an interview that aired on Monday.
He added that Beijing has continued to restrict the freedom and rights of Hong Kongers after the protests.
Yen, mostly known for his portrayal of Hong Kong-based Cantonese martial art master Ip Man (葉問), was among those named as a presenter for the 95th Academy Awards.
The 59-year-old last month told GQ Hype magazine that the democratic uprising in Hong Kong in 2019 was a "riot ... not protest."
In January, he became a member of the Chinese People's Political Consultative Conference, Beijing's top political advisory committee.
Comments will be moderated. Keep comments relevant to the article. Remarks containing abusive and obscene language, personal attacks of any kind or promotion will be removed and the user banned. Final decision will be at the discretion of the Taipei Times.