Matsu residents' Internet connections speeded up
BACKUP IMPROVED: A microwave signaling system was upgraded from 2.2Gbps and reliably transmitting signals at 3.8Gbps, one week earlier than scheduled
Lienchiang County (Matsu) residents can now send pictures and text messages faster after Chunghwa Telecom expanded the bandwidth of its microwave signaling system.
Communication between Taiwan proper and the outlying islands was severely disrupted after Chinese ships broke two undersea cables on Feb. 2 and Feb. 8.
A microwave signaling system linking Taipei's Yangmingshan (陽明山) with Dongyin Island (東引), originally designed to serve as a backup system, could only transmit telecommunications signals at 2.2 gigabits per second (Gbps), resulting in unstable voice communication and slow Internet speeds for residents since Feb. 8.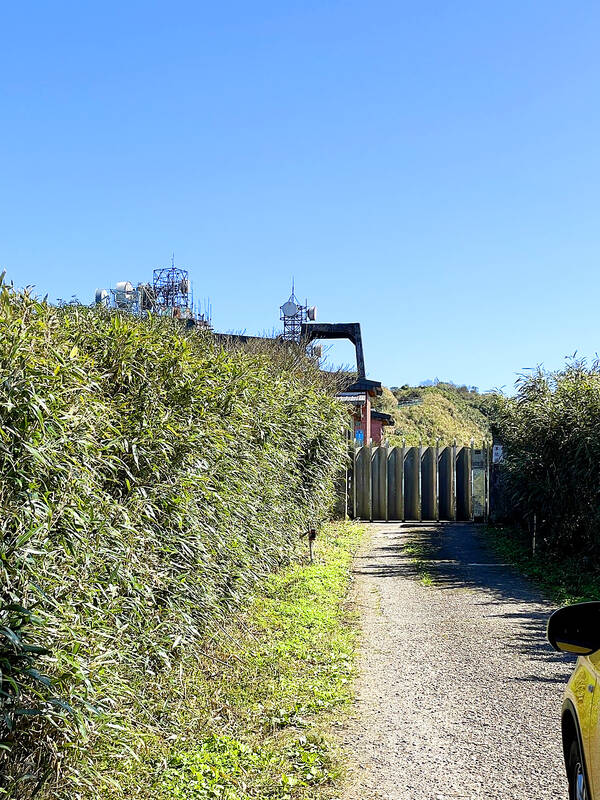 A Chunghwa Telecom microwave signaling facility on Taipei's Yangmingshan is pictured in an undated photograph.
Photo courtesy of the National Communications Commission
The telecom has booked an international cable maintenance ship to repair the broken undersea cables on April 20.
Aside from restricting bandwidth access to users of voice communications and mobile Internet, the telecom was asked by the National Communications Commission (NCC) to expand the bandwidth of the microwave signaling system.
The system on Monday was capable of reliably transmitting signals at 3.8Gbps, one week earlier than scheduled.
The expanded bandwidth enabled the telecom to resume fixed telecommunication services as well as improve voice services and mobile 5G Internet, the telecom told a news conference on Yangmingshan yesterday.
However, the system still had interference due to inclement weather and a full tide, it said.
Chunghwa Telecom Network Technology Group president Alex Chien (簡志誠) said that the cable communication was transmitted at 8Gbps to 9Gbps at peak hours and 6Gbps to 7Gbps during other hours.
"With the microwave system's transmission speed being accelerated to 3.8Gbps, people should have no trouble accessing the Internet at home and on their mobile phones most of the time," Chien said. "However, multimedia-on-demand subscribers might report problems accessing content on the platform, as it would require more bandwidth."
The telecom is aiming to further expand the bandwidth of the microwave system to 4.4Gbps in May, 6.1Gbps in September and 8.1Gbps by the end of this year, it said.
The broken undersea cables would be fixed by the end of next month, the telecom said.
The telecom would soon start building a fourth undersea cable connecting Taiwan proper and Lienchiang County, which is scheduled to be completed in 2025, it said.
NCC Deputy Chairman and spokesman Wong Po-tsung (翁柏宗) said tourists could make voice calls and send pictures via the Line app after the microwave system's bandwidth was expanded.
Unlike international submarine cables in the Pacific Ocean that are mostly installed at a depth of more than 1,000m, domestic cables installed in the Taiwan Strait have an average depth of only about 100m, Wong said.
Cables in the Taiwan Strait are easily damaged by fishing boats, sand dredgers and cargo ships, he said.
Of the 75 cable damage incidents recorded in the past 10 years, 62 percent occurred at a depth of 50m, NCC data showed.
Lienchiang County officials told reporters via videoconference that 70 percent of bed-and-breakfast operators could now access the Internet thanks to the expanded bandwidth.
"We hope that Chunghwa Telecom can expand the bandwidth of the microwave signaling system to 10Gbps," Lienchiang County Council Deputy Speaker Lin Chih-yang (林志揚) said. "In addition to repairing damaged cables, the central government should also consider connecting Matsu and China."
Comments will be moderated. Keep comments relevant to the article. Remarks containing abusive and obscene language, personal attacks of any kind or promotion will be removed and the user banned. Final decision will be at the discretion of the Taipei Times.