US missile sale shows trust in Taipei
GAME CHANGER: Seeking updated AGM-88B missiles is a 'step in the right direction,' as they can target PLA radar stations on China's southeastern coast, an expert said
The US' announcement of an arms sales package to Taiwan that includes one of the most advanced missiles in service on US warplanes underlines Washington's trust in Taipei, a military expert said.
The US Defense Security Cooperation Agency on Wednesday announced a US$619 million package that includes 100 AGM-88B high-speed anti-radiation missiles (HARM), 23 HARM training missiles, 200 AIM-120C-8 advanced medium-range air-to-air missiles (AMRAAM), four AIM-120C-8 AMRAAM guidance systems and 26 LAU-129 multipurpose launchers for F-16 jets.
If approved by the US Congress, the package would mark the first time the US has sold Taiwan the AIM-120C-8 missiles, which are also fielded on advanced US jets including the F/A-18, F-22 and F-35.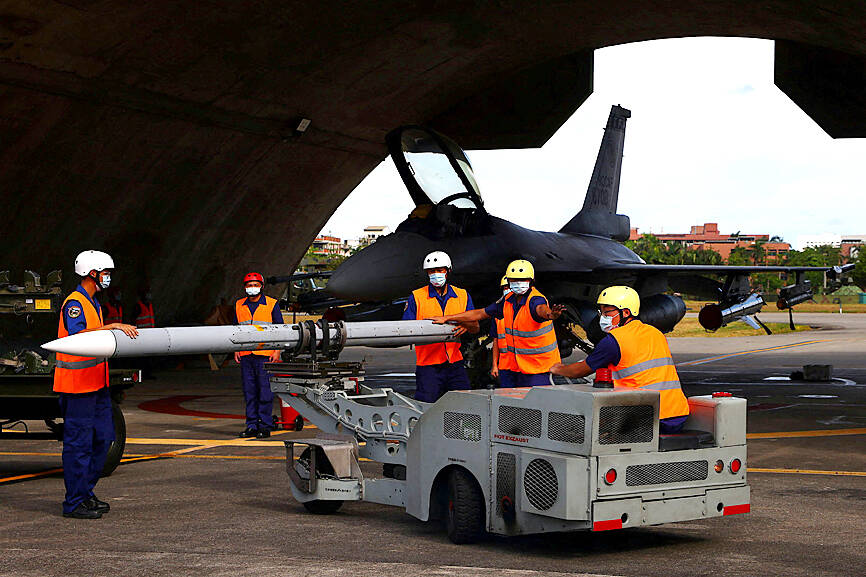 Air force personnel load a US-made AIM-120 advanced medium-range air-to-air missile during a media event at an air base in Hualien on Aug. 17 last year.
Photo: Ann Wang, Reuters
Institute of National Defense and Security Research fellow Su Tzu-yun (蘇紫雲) said the package has political significance in that the AIM-120C-8 is deployed on some of the US' most advanced aircraft.
This demonstrates the deepening bilateral ties between the nations, and the trust the US has in Taiwan, he said.
The AIM-120C-8 missile — which features a two-way data link and improved navigation using a GPS-enhanced inertial measurement unit — is often deployed on planes in combination with AIM-9 Sidewinder missiles for short to mid-range combat. It is also used by Japan's air force.
Su said the missile features a greatly increased range of 160km — about 1.5 times that of the previous AIM-120C-7 missile.
Its expanded no-escape envelope and high-angle off-boresight capability mean that enemy aircraft within firing range are less likely to escape, he said.
While a pilot traditionally has to lock on to the tail of an enemy aircraft using a targeting system before initiating a strike, the off-boresight launch capability allows pilots to fire the missiles at extreme angles, he said.
This capability, coupled with a helmet-mounted cueing system, means that pilots would no longer need a clear line of sight on a target, and would be able to fire a missile at an enemy aircraft flanking them just by looking over their shoulder, he said.
Taiwan first acquired 50 AGM-88B missiles from the US during former US president Donald Trump's administration, he said.
With the addition of the proposed 100 AGM-88B missiles, it would bolster the air force's ability to target Chinese People's Liberation Army (PLA) coastal radar stations, communications stations and marine radars, he said.
Although identified in the announcement as simply AGM-88B, it is widely believed that the missiles being proposed for sale are upgraded units from the 2018 HARM control section modification program that reportedly have an increased range of 180km.
Chieh Chung (揭仲), an associate research fellow with the Chinese Nationalist Party (KMT) think tank National Policy Foundation, said that the Ministry of National Defense "took a step in the right direction" by seeking to purchase the missiles, as it would expand Taiwan's arsenal and be an effective deterrent against PLA warships and aircraft.
The AGM-88B missile would allow the air force to target the radar systems on PLA ships during war, potentially forcing them to retreat, he said.
They could also be deployed against radar stations along China's southeastern coast, he added.
If the air force can suppress enemy fire, creating a window for a counterstrike, Indigenous Defense Fighters carrying domestically developed Wan Chien air-to-ground missiles could deter PLA forces from deploying missiles against Taiwanese aircraft, he said.
Comments will be moderated. Keep comments relevant to the article. Remarks containing abusive and obscene language, personal attacks of any kind or promotion will be removed and the user banned. Final decision will be at the discretion of the Taipei Times.