MOFA defends decision to cancel Russian concert
A statement released on Friday by the Russian representative office in Taipei overlooked Taiwan's condemnation of the Russian invasion of Ukraine, the Ministry of Foreign Affairs (MOFA) said yesterday.
MOFA respects the National Symphony Orchestra's decision to cancel a concert featuring Russian-Austrian opera singer Anna Netrebko, as it cited concerns over her alleged ties with Russian President Vladimir Putin, it said.
It would also support decisions that the Ministry of Culture might have to make regarding establishing standard policies in similar incidents, it said.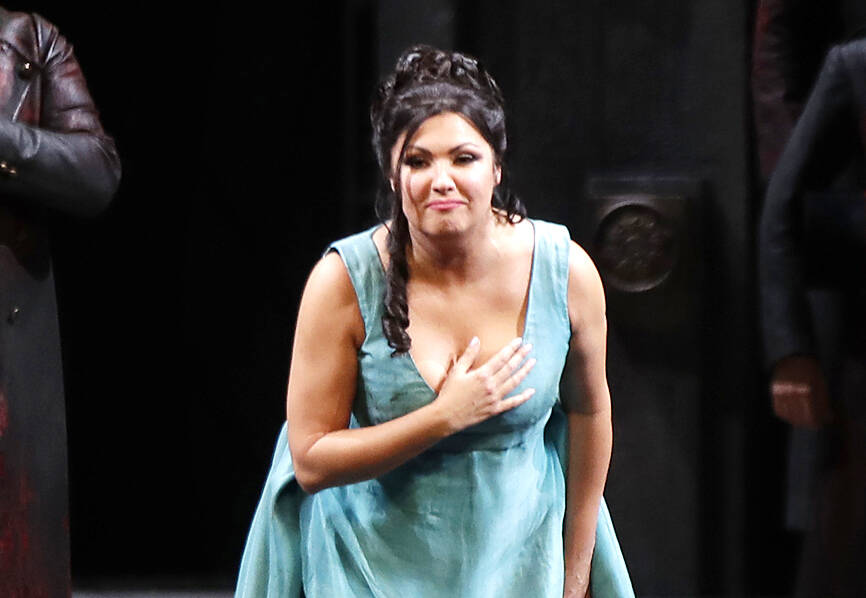 Russian soprano Anna Netrebko performs at La Scala opera house in Milan, Italy, on Dec. 7, 2019.
Photo: AP
"We deeply regret the decision of Taiwanese authorities to cancel at the last moment the concert of the internationally renowned opera soprano Anna Netrebko," the Representative Office in Taipei for the Moscow-Taipei Coordination Commission on Economic and Cultural Cooperation wrote on Facebook.
"We strongly condemn any attempts to discriminate against people, including cultural figures, on the basis of ethnicity, as well as the indulgence of a climate of hatred and intolerance by competent authorities and individuals," it said.
The office received complaints from Taiwanese artists, foreign citizens and Russians residing in Taiwan, expressing their concern and disappointment over the sudden cancelation of the event, it said.
Taiwan condemns Russia's invasion of Ukraine, and it supports Ukrainians' right to defend their freedom, democracy and territorial integrity, MOFA said.
Russia's invasion of Ukraine and how it is undermining the rules-based international order is similar to what China is doing to neighboring countries, and no country that loves peace could accept acts that subvert human civilization and wear away at what holds the international community together, it said.
Comments will be moderated. Keep comments relevant to the article. Remarks containing abusive and obscene language, personal attacks of any kind or promotion will be removed and the user banned. Final decision will be at the discretion of the Taipei Times.