Ukraine ballet to switch out Taipei Swan Lake shows
The United Ukrainian Ballet (UUB) is to replace its performance of Swan Lake with other programs when it visits Taiwan next month, event organizer udnFunLife Co Ltd said yesterday.
The company was originally scheduled to perform three shows of Swan Lake, a ballet composed by Russian composer Pyotr Ilyich Tchaikovsky, at the Taipei Music Center on April 29 and April 30 during its first trip to Taiwan.
Considering Russia's war in Ukraine, "the cultural sensitivities that the war has caused in the Ukrainian nation means that it is not possible for UUB to perform Swan Lake at this time," the company told the organizer in a statement on Tuesday.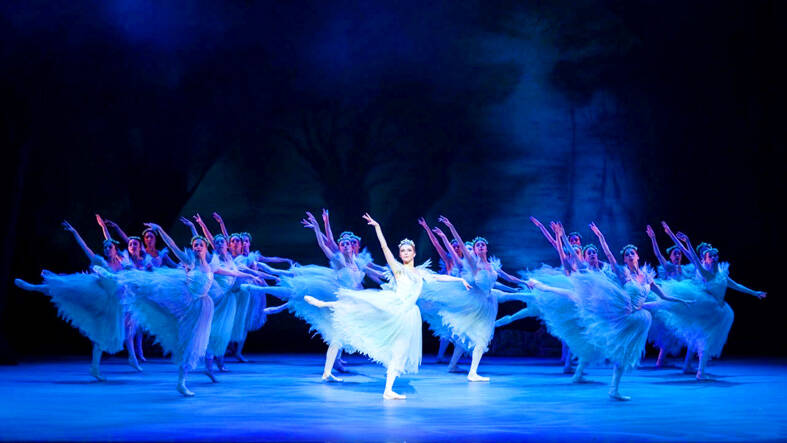 The United Ukrainian Ballet performs in an undated photograph.
Photo courtesy of udnFunLife Co Ltd and Altin Kaftira via CNA
The program is to be replaced by a series of ballets featuring choreographer Alexei Ratmansky's new work Wartime Elegy and dances from classic ballet pieces Don Quixote, Le Corsairse and Carmen, the statement said.
The 18-minute Wartime Elegy — the choreographer's first ballet since the war began — is "a love letter to the Ukrainian people," it said.
"We unite to protect and support our country," dancers of the company said in a video, adding that they are glad to be able to perform in Taipei.
The company was founded last year, comprising about 60 Ukrainian ballet dancers in exile, who train and live in the old building of the Royal Conservatory in The Hague.
The dancers have performed in Australia, the Netherlands, Singapore, the UK and the US.
Although Swan Lake has long been regarded as a common asset of human civilization, udnFunLife respected the company's decision to change the program to "avoid unnecessary misunderstanding and confusion," it said.
People who already bought tickets to the performances and request a refund can do so without a service charge before March 15, it said.
Those who bought tickets before the announcement at 11am yesterday, and still wish to see the performances, can receive a free program on the day of the show, it said.
Comments will be moderated. Keep comments relevant to the article. Remarks containing abusive and obscene language, personal attacks of any kind or promotion will be removed and the user banned. Final decision will be at the discretion of the Taipei Times.