Chipmakers urged to generate own energy
Local chipmakers should make better use of photovoltaics and collaborate with community-based renewable energy programs to boost Taiwan's green energy capacity, Greenpeace Taiwan said yesterday, after it conducted a survey that showed Taiwan's four biggest chipmakers are not on track to achieve a global target dubbed RE100 to reach 100 percent renewable energy use at large corporations.
Taiwan Semiconductor Manufacturing Co (TSMC) generates 0.027 percent of its electricity consumption at its renewable energy facilities, while United Microelectronics Co generates 0.075 percent of its power consumption from renewables at its facilities, it said.
Advanced Semiconductor Engineering Co self-generates 0.009 percent of its power consumption via renewables, and Delta Electronics self-generates 4 percent, Greenpeace said.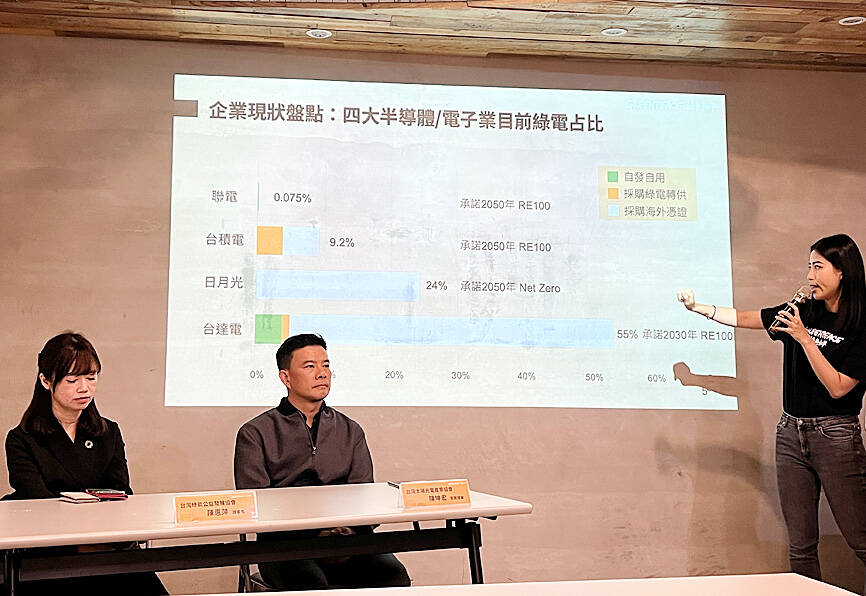 Members of Greenpeace Taiwan hold a news conference at the organization's office in Taipei yesterday.
Photo: Chen Chia-yi, Taipei Times
Instead of raising their renewable energy generation, the companies have been purchasing international renewable energy certificates, Greenpeace Taiwan climate and energy project head Tracy Cheng (鄭楚忻) said, adding that the practice does not meaningfully contribute to building green energy capacity in Taiwan.
Chipmakers should install solar panels on-site to power their facilities, she said, adding that TSMC can generate up to 53 million kilowatt-hours of electricity if it covers the 42.2 hectares it owns in Taiwan with panels.
The power it could generate would be equivalent to the consumption of 12,552 households, Cheng said.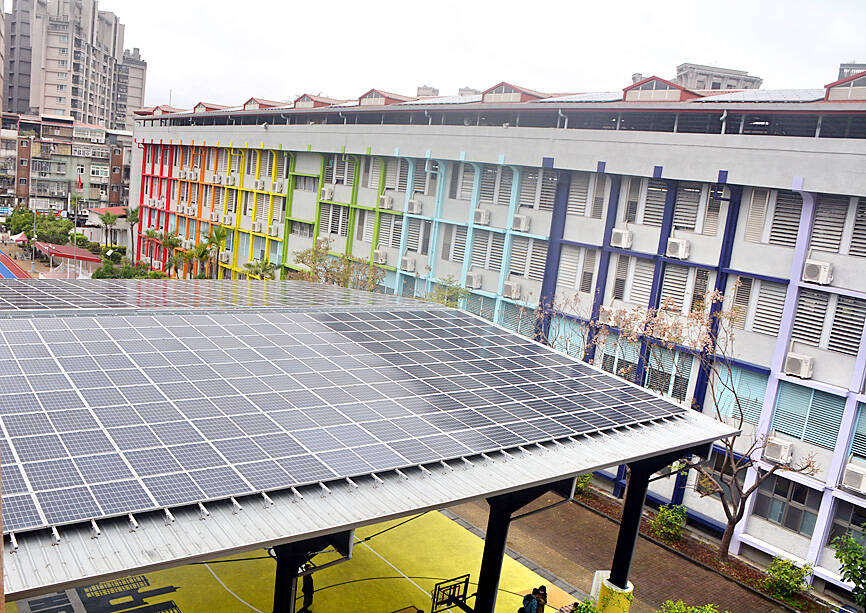 Solar panels cover a court at Ziqiang Elementary School in New Taipei City's Jhonghe District on Feb. 23.
Photo: CNA
PUBLIC SUPPORT
A Greenpeace poll found that more than 50 percent of the public support requiring semiconductor firms to invest in roof solar panels, while 30 percent of respondents said they were willing to rent their rooftops to companies such as TSMC for the installation of solar panels, she said.
Rooftop solar panels have the smallest environmental impact and land requirement, she said, adding that the chip industry should lead the way in developing renewables.
Taiwan's high population density and lack of land available for other forms of renewable energy generation suggest that the government should prioritize the construction of rooftop solar panels, Taiwan Photovoltaic Industry Association managing chairman Chen Kun-hung (陳坤宏) said.
Installing solar panels on the roofs of industrial buildings, offices and garages would maximize the use of space and avoid land requisitions for solar farm construction that could spark controversy among residents, he said.
Homeowners and enterprises should join roof solar cooperatives that can generate profit by selling electricity to the grid, Taiwan Green Energy for Charity Association chairwoman Chen Hui-ping (陳惠萍) said.
In Singapore, Apple Inc is operating solar panels with a capacity of 50 megawatts on the roofs of 800 apartment buildings, she said.
TSMC said that owing to safety considerations, it would not be possible to completely cover the roofs of its fabs with solar panels.
However, the company in 2021 installed solar panels wherever possible, including on driveway rain coverings, that are capable of providing 231 kilowatts, it added.
Comments from the other companies mentioned in the report were not available as of press time last night.
Additional reporting by CNA
Comments will be moderated. Keep comments relevant to the article. Remarks containing abusive and obscene language, personal attacks of any kind or promotion will be removed and the user banned. Final decision will be at the discretion of the Taipei Times.