Inmate arrested after failing to return from temporary leave
A 27-year-old inmate was arrested in New Taipei City on Tuesday after failing to return to prison in Hualien County following an approved temporary release, in the third such incident in a year.
Lu Tsung-lung (魯宗龍) was arrested by the Railway Police Bureau's criminal investigation unit at about 5pm in an Internet cafe in New Taipei City's Sijhih District (汐止), the bureau said.
Lu was given permission to leave the prison to see his family in Kinmen County on Saturday last week, but had to return by 8pm on Monday, Zihciang Minimum-Security Prison deputy warden Chen Chang-mu (陳長木) said.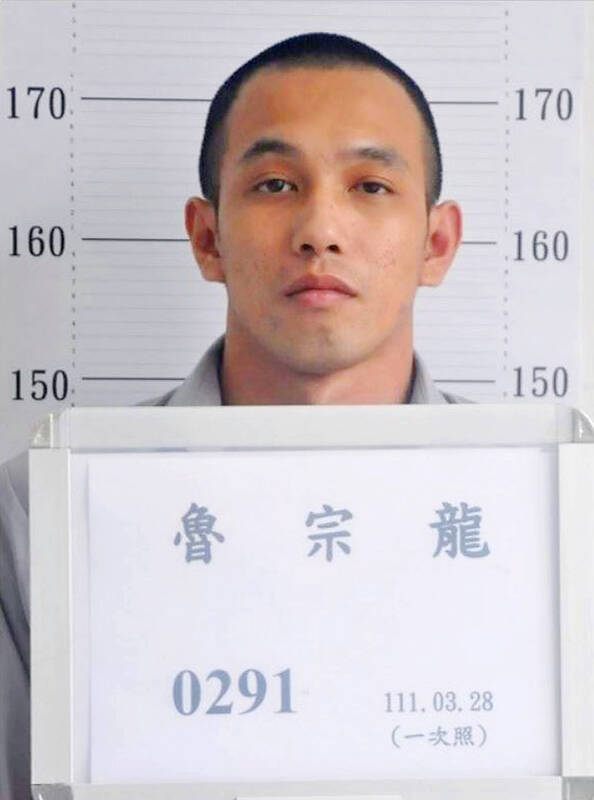 Lu Tsung-lung.
Photo courtesy of Criminal Investigation Bureau
Although Lu's return was postponed because his return flight was delayed, he should have taken a train to Hualien after arriving in Taipei, Chen said.
The prison contacted Lu's family, but they said they did not know his whereabouts, and after informing the Hualien County District Prosecutors' Office that Lu had exceeded the limit of his temporary release, it issued a warrant for his arrest, Chen said.
After reviewing footage from more than 100 security cameras in Taipei and Hualien, investigators spotted him at the airport, and then buying a train ticket at Taipei's Nangang Station (南港). He was later seen getting off a train in Sijhih.
Lu was sentenced by the Fuchien Kinmen District Court to two years, eight months in prison for charges related to fraud and theft. He was transferred to the Hualien prison on Aug. 30, 2021.
Lu has been granted temporary release five times and had less than one year of his sentence remaining before this week's incident, Chen said, adding that Lu had applied to be released on parole in November last year, but was denied.
The incident is the third in the past 12 months of an inmate absconding while on temporary leave from the Zihciang Minimum-Security Prison.
Kang Yu-hao (康育豪), who was granted temporary leave in March last year, remains missing, authorities said.
He allegedly slashed a person with a knife in July last year.
Twenty-nine year-old Hsu Ya-lun (許亞倫) was arrested on Aug. 28 last year, six days after he failed to report back to the prison.
The frequency of inmates on temporary release failing to return has sparked concern over loopholes in the Statute of Open Prisons (外役監條例).
The Ministry of Justice on Tuesday evening said that the statute should be amended and requested that correctional institutions do a better job of vetting applicants before release.
Comments will be moderated. Keep comments relevant to the article. Remarks containing abusive and obscene language, personal attacks of any kind or promotion will be removed and the user banned. Final decision will be at the discretion of the Taipei Times.