Hsia leads delegation in China
BREAD-AND-BUTTER ISSUES: The KMT must abide by the wishes of Taiwanese and avoid 'hijacking the normalization of cross-strait relations,' DPP officials said
Chinese Nationalist Party (KMT) Vice Chairman Andrew Hsia (夏立言) called for better understanding across the Taiwan Strait to improve people's lives in a meeting with China's Taiwan Affairs Office Director Song Tao (宋濤) in Beijing on Thursday.
Hsia, whose delegation was scheduled to visit six Chinese cities until Friday next week after arriving on Wednesday, urged Taiwan and China to focus on bread-and-butter issues so that people are not affected by political differences between the two sides, a KMT statement said.
Among the issues are the difficulties faced by Taiwanese small and medium-sized enterprises, particularly in the agricultural and fisheries sectors, due to several Chinese suspensions of imported goods from Taiwan since 2021, Hsia said.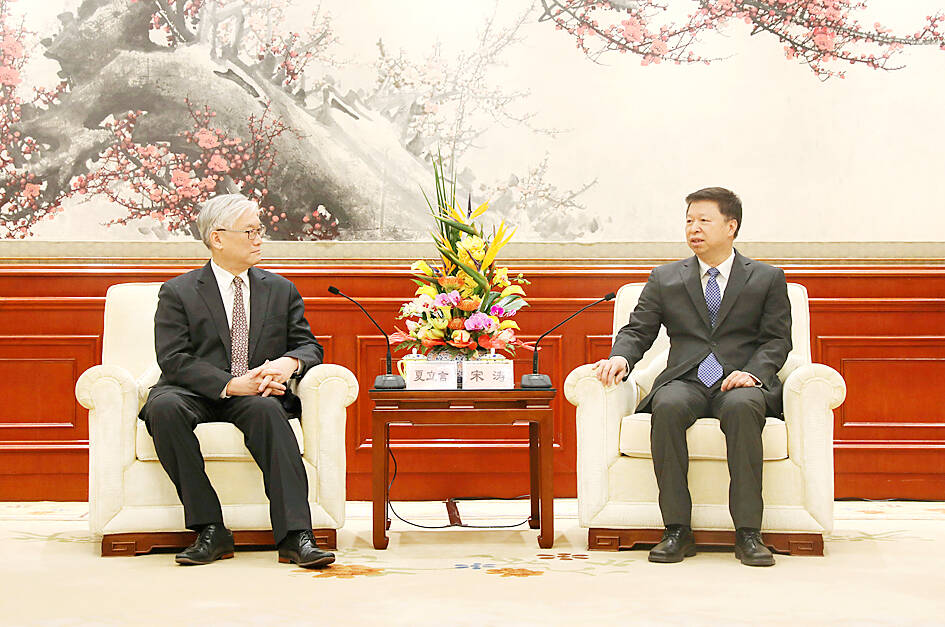 Chinese Nationalist Party (KMT) Vice Chairman Andrew Hsia, left, meets with China's Taiwan Affairs Office Director Song Tao in Beijing on Thursday.
Photo courtesy of the KMT
Taiwan and China should make sure that previous cross-strait agreements relate to people's livelihoods, and are properly implemented, he said.
The two sides should seek ways to reduce the cost and inconvenience of cross-strait exchanges so that more dialogue can be carried out to "improve stability and peaceful development," Hsia said.
Hsia's trip has been controversial given China's sustained pressure on Taiwan, but the KMT described the meeting in Beijing as candid, stressing that the party has been acting in line with its existing position, including the promotion of the so-called "1992 consensus."
The "1992 consensus" — a term that former Mainland Affairs Council (MAC) chairman Su Chi (蘇起) in 2006 admitted making up in 2000 — refers to a tacit understanding between the KMT and the Chinese Communist Party (CCP) that both sides of the Taiwan Strait acknowledge that there is "one China," with each side having its own interpretation of what "China" means.
The Democratic Progressive Party (DPP) has never accepted the existence of such an agreement and does not agree with the formula, as it implies that Taiwan is part of China.
The MAC said that the meeting downgraded and hurt Taiwan's sovereignty, as Song voiced Beijing's intention to "carry through its strategy to resolve the Taiwan issue."
Song also expressed Beijing's willingness to work with the KMT more closely based on their common ground of the "1992 consensus" and opposition to Taiwanese independence, which the MAC described as a "united front" tactic.
The CCP has used the "1992 consensus" as a formula to reach "one country, two systems" unification, and Taiwanese refuse to accept it, the MAC said.
The KMT and CCP should abide by mainstream sentiment in Taiwan and avoid "hijacking the normalization of cross-strait relations," DPP officials said in a statement yesterday.
"Chinese officials talked about their new approach to resolving the Taiwan issue, meaning annexing Taiwan by force, but the KMT is singing the same tune and cooperating," it said. "It is deceiving the public and sabotaging the means to safeguard Taiwan."
"The KMT's actions will prompt more opposition among the public, while sending out wrong messages to the international community," it added.
The KMT said that Hsia's visit was intended to deal with Chinese import barriers, but China impeded the import process, then reduced restrictions for some products out of "generosity," it said, adding that the KMT should not accept China's unreasonable actions.
Hsia was scheduled to visit Shanghai, Nanjing, Wuhan, Chongqing and Chengdu during his trip, in which he is to meet with Taiwanese communities to get a first-hand understanding of their needs, the KMT said.
The trip is Hsia's first visit to China this year, following a 17-day trip last year shortly after Beijing launched a high-pressure military and economic campaign in retaliation for then-US House of Representatives speaker Nancy Pelosi's visit to Taipei.
Additional reporting by Jason Pan
Comments will be moderated. Keep comments relevant to the article. Remarks containing abusive and obscene language, personal attacks of any kind or promotion will be removed and the user banned. Final decision will be at the discretion of the Taipei Times.