Child exploitation cases reach 5 per day, ECPAT says
Five cases of online child sexual exploitation were reported per day last year on average, ECPAT Taiwan said yesterday.
ECPAT Taiwan, a group dedicated to combating child sexual exploitation, in 1999 set up Web547, a reporting mechanism for online abuse.
Last year, 7,967 reports of inappropriate or illegal activity online were reported through the platform, the organization told a news conference in Taipei.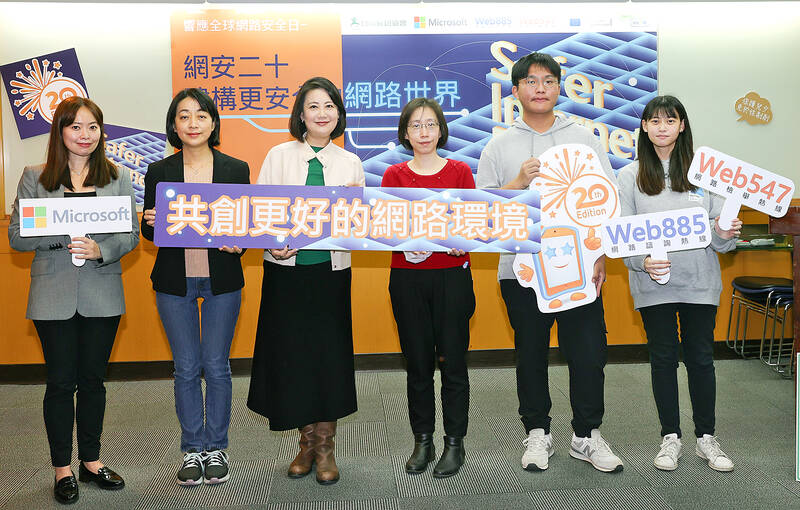 Legislators Claire Wang, second left, and Rosalia Wu, third left, and members of ECPAT Taiwan hold placards at a news conference at National Taiwan University in Taipei yesterday.
Photo: CNA
Of them, 1,820 involved sexual exploitation of minors, or five reports per day, it said, adding that the figure was a significant increase from the previous year.
Many cases involved personal information paired with pornographic images to make them appear authentic, with posts claiming to be seeking dates or intimate partners, it said, adding that it was concerned that children might imitate the posts.
One tactic used by predators is to ask minors — usually young boys — to swap lurid images, while others might promise money or gifts for sexual favors, it said.
There were also job postings seeking minors above the age of 13 to work as "companions" discussing sexual topics, it said.
Through its Web885 counseling line, ECPAT Taiwan handled 115 cases last year, of which 61 involved digital sexual violence.
Women represented 64 percent of those affected, with ages ranging from seven to 48, the group said.
Thirty-five cases involved sexual blackmail, while 16 involved intimate images, it said.
However, only seven people reported their case to the police, the group said, adding that most did not know what to do.
Huang Pei-chi (黃佩琪), a student representative from Huajiang Senior High School, said that Taiwan has its own "Nth Rooms," referring to a high-profile blackmail and cybersex trafficking case in South Korea.
Minors curious to explore their sexuality share intimate images through social media, but if something bad happens, they find it hard to trust authorities or social workers out of fear they will be reprimanded, exposed or have their phones taken away, Huang said, calling for educational material to reflect the needs of young people.
Major social media platforms are attempting to put more protections in place, but predators find ways to evade restrictions, ECPAT Taiwan secretary-general Chen I-ling (陳逸玲) said, calling for global cooperation to create internationally consistent laws.
The legislature last month passed amendments to clarify the criminal liability of platforms, uploaders, people in possession of intimate images and others, New Power Party Legislator Claire Wang (王婉諭) said.
However, legislation is not the only solution, she said, adding that advocating for increased vigilance and against the procurement of intimate images is also needed.
Democratic Progressive Party Legislator Rosalia Wu (吳思瑤) called for more involvement by non-governmental organizations at all levels of education, as schools and public institutions are not flexible enough to meet needs.
A detailed standard operating procedure is also needed to stop the dissemination of illegal images and protect victims, she added.
Comments will be moderated. Keep comments relevant to the article. Remarks containing abusive and obscene language, personal attacks of any kind or promotion will be removed and the user banned. Final decision will be at the discretion of the Taipei Times.