Rent subsidies to be available for 18-year-olds
UPDATED PROGRAM: An official said that because economic circumstances vary within households, the definition of a family member would be altered
Rent subsidies are to be available for people as young as 18 under an updated version of an Executive Yuan program to be implemented in April at the earliest.
The Executive Yuan last year began a four-year program offering rent subsidies until 2025.
The program expands the annual budget for subsidies to NT$30 billion (US$998.57 million) from NT$5.7 billion and broadens eligibility criteria.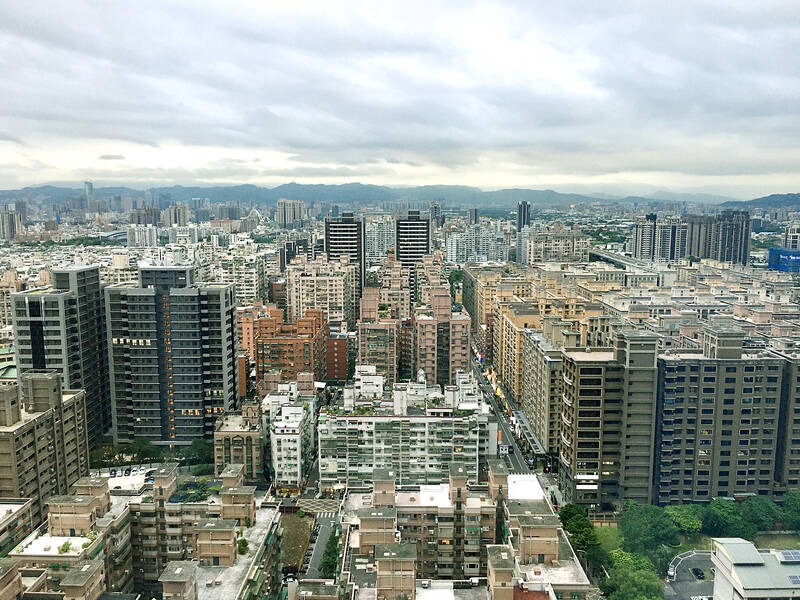 Buildings are pictured in Taipei in an undated photograph.
Photo: Hsu Yi-ping, Taipei Times
Three application rounds were held last year starting in July for the monthly subsidy, helping about 280,000 households.
Under the current plan, those eligible include single renters aged 20 to 35, couples in their first two years of marriage, families with minor children and economically disadvantaged households. Subsidy amounts vary depending on circumstances.
To allow renters flexibility about when they move, the Cabinet's "Version 2.0" of the program plans to eliminate application deadlines, an official said on condition of anonymity.
Funds would also be deposited directly into recipients' bank accounts, the official said.
The age of eligibility would also be lowered to 18 to conform with the new age of majority under the Civil Code to go into effect this year, they said.
As household members might have different economic circumstances, Version 2.0 would alter the definition of a family member, they said.
The goal of the program would also be adjusted, with the aim of aiding 500,000 households annually, up from 120,000, covering nearly 60 percent of renters, the official said.
Although 320,000 applications were received last year, 40,000 were rejected, they said, adding that the Ministry of the Interior would help advise applicants to make sure they fit the criteria.
Finalized plans are expected to be announced by the end of this month and implemented in April at the earliest, the official said.
Comments will be moderated. Keep comments relevant to the article. Remarks containing abusive and obscene language, personal attacks of any kind or promotion will be removed and the user banned. Final decision will be at the discretion of the Taipei Times.