Chinese balloon slowed by arctic weather event
A suspected Chinese surveillance drone took longer than usual to cross the continental US due to sudden stratospheric warming over the arctic, Central Weather Bureau Director-General Cheng Ming-dean (鄭明典) said yesterday.
The balloon was first detected over Billings, Montana, on Wednesday after likely traversing western Canada. It was shot down by the US on Saturday over the Atlantic Ocean off the coast of South Carolina. The FBI has gathered parts of the balloon for analysis. China has denied it was a surveillance balloon and protested its destruction.
The object likely took seven days to cross Canada and the continental US, a journey that should normally have taken about two days, Cheng said in a social media post.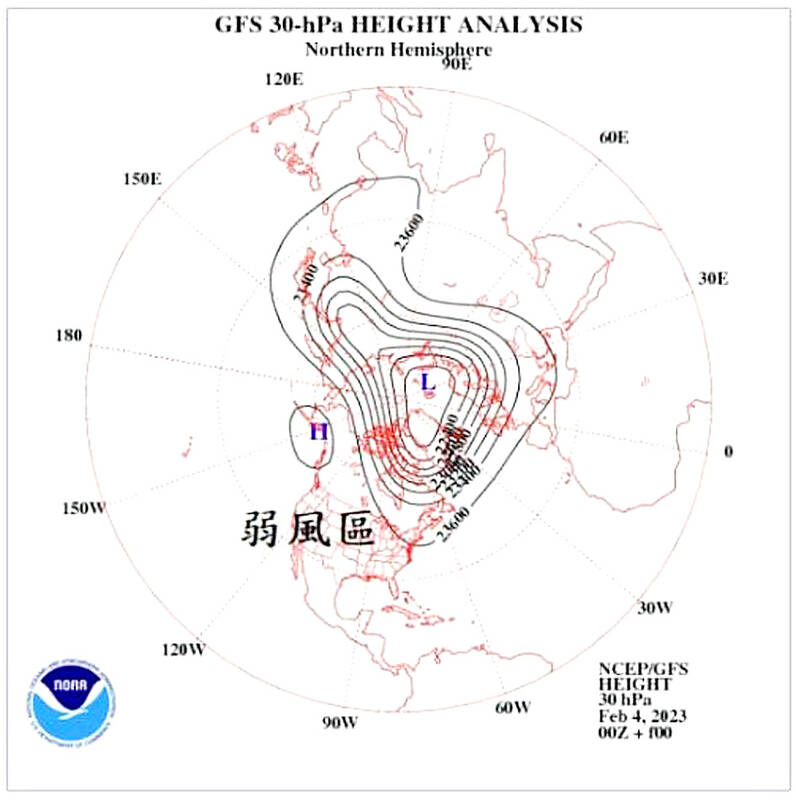 A map displays an analysis of sudden stratospheric warming above the Arctic.
Photo: Screen grab from Cheng Ming-dean's Facebook page
Sudden stratospheric warming occurs when stratospheric temperatures increase in the winter, and the winds that normally blow from west to east around the pole weaken dramatically and even reverse direction, Cheng said.
Such an event took place over the past week, significantly shifting the position of high-altitude westerlies, he said, adding that a weak westerly wind blew across the continental US during the period, slowing down the Chinese balloon.
If the balloon had not been shot down, it would have encountered strong winds after reaching the Atlantic and been quickly blown toward Europe, he said.
Cheng on Saturday said that an object similar to the suspected Chinese surveillance balloon appeared over Taipei twice in the past 18 months — in September 2021 and March last year — hovering in the sky for two to three hours each time.
The government at the time did not comment on the sightings.
Comments will be moderated. Keep comments relevant to the article. Remarks containing abusive and obscene language, personal attacks of any kind or promotion will be removed and the user banned. Final decision will be at the discretion of the Taipei Times.