CDC reports first malaria case of the year
The Centers for Disease Control (CDC) yesterday reported a malaria case involving a traveler who arrived from Ivory Coast.
The centers said the malaria case was a Swiss man in his 50s, who had been in Ivory Coast from the middle of December to early last month, adding that he did not take malaria prevention drugs.
It said the man arrived in Taiwan on Jan. 9 and later began having a fever and headache.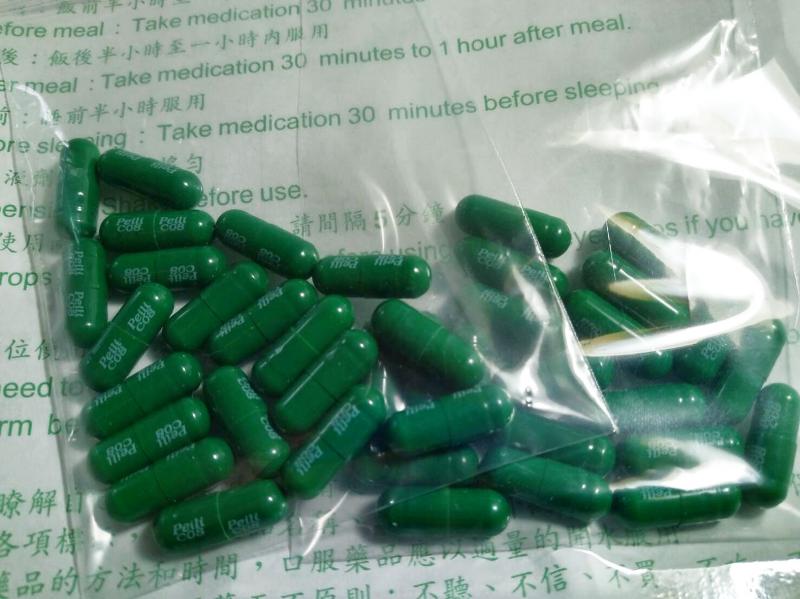 Malaria prevention drugs are pictured yesterday. CDC suggests People who are planning to visit countries where malaria is endemic should take malaria prevention drugs before, during and after the trip.
Photo: Wu Liang-yi, Liberty Times
He sought treatment on Jan. 17, the CDC said, adding that a blood sample was sent to a lab for testing for malaria on Jan. 20, and Plasmodium falciparum, a parasite that causes malaria, was detected.
The man is the nation's first malaria case this year, the center said, adding that he had since been discharged from hospital.
It was the 14th malaria case reported in Taiwan since 2019, the center said, adding that all of them were imported and most had contracted the disease in Africa.
Most involved Plasmodium falciparum, while malaria caused by Plasmodium vivax ranked second, it said.
Malaria is spread to humans through the bites of infected mosquitoes, and symptoms usually appear within seven to 30 days, it said.
Early symptoms are similar to those of flu, including fever, headache, muscle aches, joint aches, nausea, vomiting and tiredness, the CDC said.
Prompt treatment is recommended to ensure that the symptoms do not worsen and patients do not develop symptoms such as shaking chills, spleen enlargement, jaundice, kidney failure, seizures, excess fluid in the lungs and confusion, which might lead to them falling into a coma and dying, the CDC said.
People who are planning to visit countries where malaria is endemic should book pre-travel consultations at travel medicine clinics at least a month before the trip and, if prescribed by a doctor, take malaria prevention drugs before, during and after the trip, the CDC said.
Separately, the agency on Tuesday reported four new severe influenza cases — three involving Influenza A subtype H3N2 and one involving an unidentified Influenza A virus.
The four people started having symptoms between Jan. 15 and Tuesday last week, it said.
Taiwanese emergency rooms last week recorded more than 19,400 visits by people who had flu-like symptoms, it said.
From the beginning of the flu season on Oct. 1 last year to Monday, 27 severe influenza cases had been reported, including four deaths, it said.
Comments will be moderated. Keep comments relevant to the article. Remarks containing abusive and obscene language, personal attacks of any kind or promotion will be removed and the user banned. Final decision will be at the discretion of the Taipei Times.