Italo Calvino translations featured at Taipei event
BORN 100 YEARS AGO: The Italian pavilon at the Taipei International Book Exhibition focuses on the novelist with lectures from international and Taiwanese experts
The Italian pavilion at the Taipei International Book Exhibition is hosting a series of lectures and presenting 15 Chinese-language editions of works by Italo Calvino to mark the centenary of the author's birth.
The Italian Economic, Trade and Cultural Promotion Office said that it has for the first time organized the country's presence at the annual book fair in collaboration with the Bologna Children's Book Fair, which frequently features illustrators from Taiwan.
The office said in a news release that the pavilion would have sections devoted to Italian comic book authors, illustration books and works by young authors of illustrated children's books.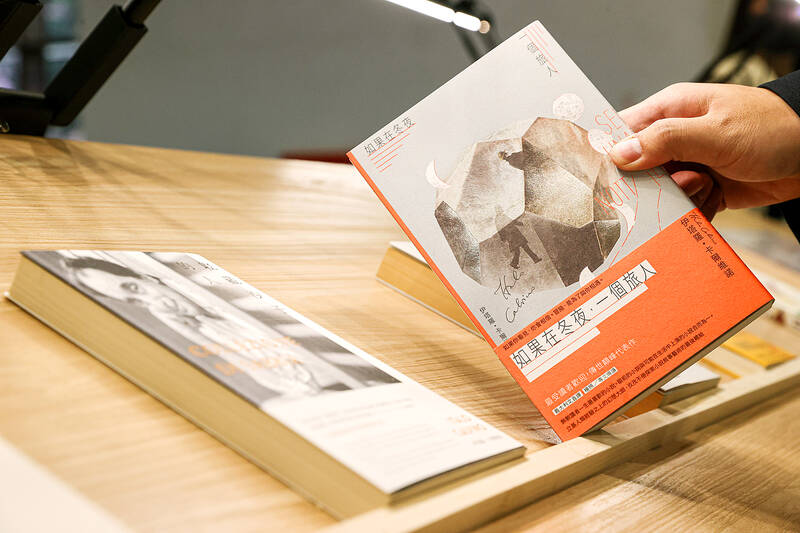 A boy watches a plane on a taxiway at Taipei International Airport (Songshan airport) on Friday.
Photo: CNA
The pavilion is to mark the centenary of the birth of Italo Calvino — an author of classic novels such as Invisible Cities and If on a Winter's Night a Traveler — with a collection of 15 of his books translated into Chinese, the statement said.
The office said that the series of lectures started yesterday with an event featuring Ni An-yue (倪安宇), a translator of multiple books by Calvino and other contemporary Italian authors.
On Friday, Taiwan-based comparative theology academic Umberto Bresciani would hold a lecture titled "The debate over science and metaphysics (1923-2023)," it said.
On Saturday, writer Beatrice Hsieh (謝佩霓) would hold a lecture on "the Italian literary genius," the office said.
Meanwhile, the Belgian Office in Taipei said it had invited 11 publishers to take part in its pavilion at the book fair, which would focus mainly on comics and children's books.
Belgian author and illustrator Marine Schneider, whose Hekla and Laki was awarded the Best Children's Book prize at the Montreuil Children's Book Fair in France last year, would give a speech at the exhibition, it said.
The book fair is held at the Taipei World Trade Center from Tuesday to Sunday, featuring more than 470 overseas publishers from 32 nations.
A single-day ticket costs NT$100, while admission is free for children and foreign nationals who show their passports or residence permits at the entrance.
Comments will be moderated. Keep comments relevant to the article. Remarks containing abusive and obscene language, personal attacks of any kind or promotion will be removed and the user banned. Final decision will be at the discretion of the Taipei Times.