Probe seeks to review rules on water leisure activities
Control Yuan members Fan Sun-lu (笵巽綠) and Su Li-chiung (蘇麗瓊) on Tuesday said that they are petitioning to investigate if strict regulations on activities near water are infringing on the public's right to recreational activities.
The pair said they have received complaints from the Taiwan Allow Activities on Open Waters Alliance and other organizations that their request to the Taipei City Government to hold a recursive rowing event in Dahu Park (大湖公園) in Neihu District (內湖) was denied.
Taiwan has many lakes and rivers, the Control Yuan members said, adding that it is a rising trend among international cities, such as New York, Tokyo and Amsterdam, to promote water-related recreational activities to promote economic development.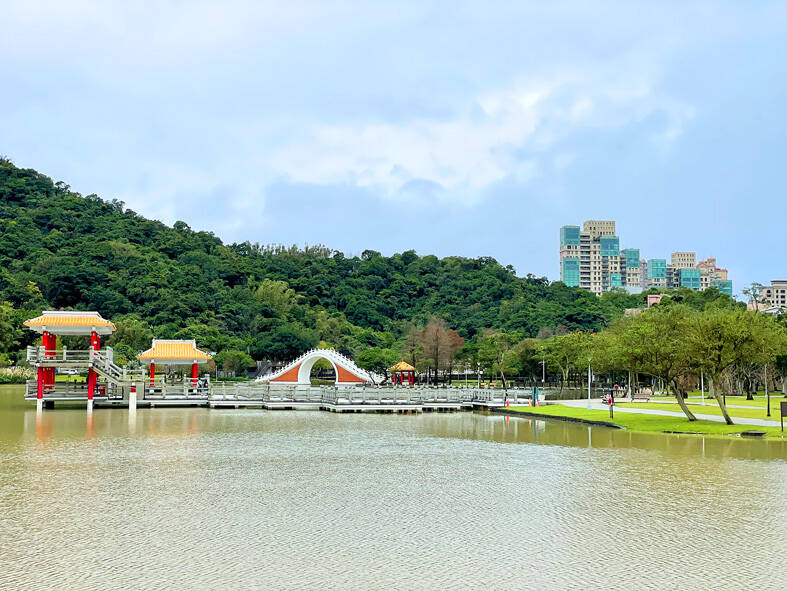 Dahu Park in Taipei's Neihu District is pictured on Feb. 3 last year.
Photo: Cheng Ming-hsiang, Taipei Times
Regulations in Taiwan seem to stand in the way of popularizing recreational water activities, they said.
The Control Yuan is within reason to launch an investigation into the issue, as it believes questions on whether standing regulations are anachronistic or whether the Taipei City Government's refusal to approve the event was targeted should be answered, they said.
Competent authorities and local city governments have differing regulations on open water activities, making it difficult for practitioners to follow the law, Fan and Su said.
The pair said they would determine whether the Taipei City Government's decision observes the principle of proportionality and whether its standards are appropriate.
Definition of open water areas and what locations fit these criteria should be inventoried and local regulations reviewed to encourage the public to take part in aquatic activities, they said.
Comments will be moderated. Keep comments relevant to the article. Remarks containing abusive and obscene language, personal attacks of any kind or promotion will be removed and the user banned. Final decision will be at the discretion of the Taipei Times.