Tsai asks for support to meet new year challenges
DESERVED THANKS: The president expressed gratitude to personnel working over the holiday, and invited the public to join her on a temple tour across the nation
President Tsai Ing-wen (蔡英文) in her Lunar New Year address yesterday said that the coming year would bring many challenges, as she asked Taiwanese to work with the government to build a better Taiwan.
Tsai conveyed early holiday greetings to Taiwanese and others who observe the Lunar New Year.
Last year was fraught with continual naval and air force harassment from the Chinese Communist Party and even a large-scale, multi-day military exercise around Taiwan in August, but the government and military stood their ground to protect the country, Tsai said.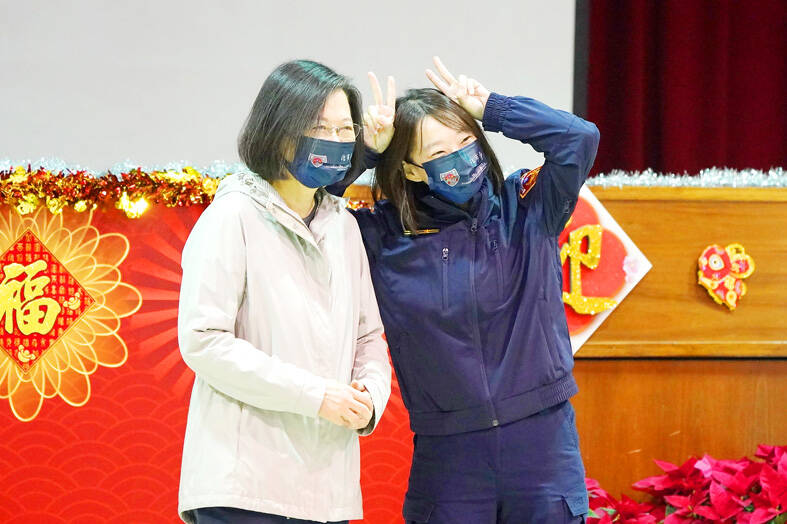 President Tsai Ing-wen, left, poses for a photogrpah with on-duty police officers at the Taipei City Police Department's Zhongzheng District First Precinct.
Photo: CNA
The government will ensure that the post-COVID-19 economy has a strong start after the Lunar New Year holiday, and will continue to defend the nation's sovereign autonomy, she said.
"A happy Lunar New Year to all, may you rest safe and may the Year of the Rabbit bring you great fortune," Tsai said in Mandarin, Hoklo (commonly known as Taiwanese), Hakka and English at the conclusion of her address.
Separately yesterday, Tsai visited the Taiwan Railways Administration's Taipei Railway Station to inspect how measures to handle the increased holiday passenger flow were being implemented.
She also visited the First and Second Zhongzheng District (中正) police precincts to offer personal encouragement to officers working during the Lunar New Year period.
During the visits, Tsai said that thanks were due to military personnel, police, firefighters, medical workers, state-owned business employees and others who are offering their service during the holiday.
"Thank you all for your hard work," she added.
Tsai said the government would continue to bolster efforts to upgrade equipment made available to the police, and would increase social housing benefits for police and firefighters.
Tsai declined to answer questions about an announced Cabinet reshuffle.
Premier Su Tseng-chang (蘇貞昌) on Thursday said that he and other members of the Cabinet had tendered a general resignation to Tsai, who has not yet responded to the symbolic act.
Tsai on Facebook said that she would visit select temples across the country to pray for the good fortune and safety of all Taiwanese and that she welcomes anyone who wishes to join her, adding that she would hand out good-luck charms.
The temples Tsai is scheduled to visit are the Juexiu and Baoan temples in Taipei's Datong District (大同) from 10:30am until noon tomorrow, Da Sien Temple in Nantou County's Mingjian Township (名間) at about noon on Monday and Tzu Chi Temple in Taichung's Fengyuan District (豐原) that afternoon, and Longcheng Temple in Kaohsiung's Fengshan District (鳳山) some time between 2:40pm and 3:30pm on Tuesday.
Comments will be moderated. Keep comments relevant to the article. Remarks containing abusive and obscene language, personal attacks of any kind or promotion will be removed and the user banned. Final decision will be at the discretion of the Taipei Times.