Former rear admiral, lawmaker in spy probe
A retired rear admiral and a former lawmaker have been detained for allegedly contravening the National Security Act (國家安全法), the Kaohsiung District Court said yesterday, in the latest spying scandal to hit the military's upper echelons.
Hsia Fu-hsiang (夏復翔), who served as deputy head of the navy's political warfare department, and former Taiwan Solidarity Union legislator Lo Chih-ming (羅志明) were deemed flight risks and taken into custody yesterday, the court said.
The court reversed a decision allowing bail earlier this month, citing the risk that the duo could collude with witnesses.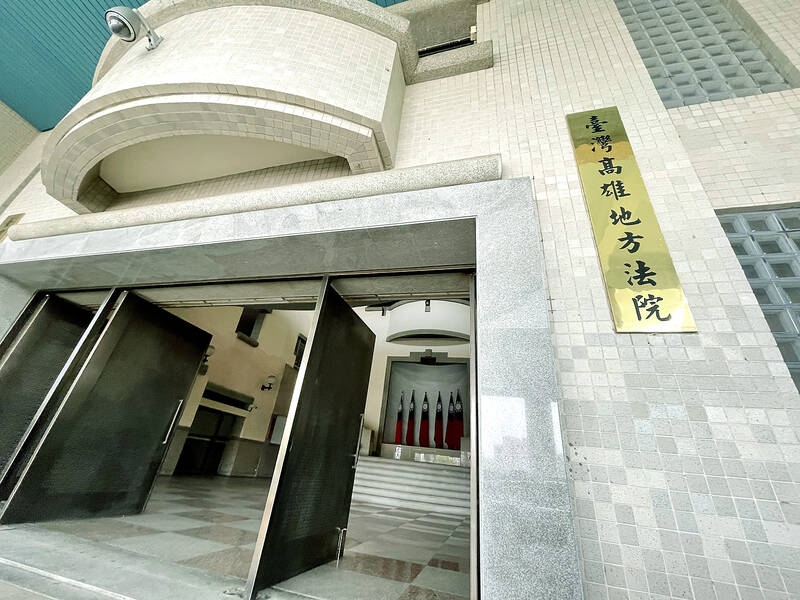 The Kaohsiung District Court is pictured on Dec. 12 last year.
Photo: Huang Liang-chieh, Taipei Times
"The defendants arranged witnesses to go to mainland China and [the trips] were very likely linked to promoting unification" with China, it said in a statement without providing further details of the probe.
Lo allegedly recruited Hsia, and the pair used their connections to arrange for retired military officers to visit China as part a bid to develop a spying network in Taiwan.
Their case surfaced shortly after prosecutors launched an investigation into a retired air force colonel suspected of recruiting at least six active-duty officers in the air force and the navy for Beijing in eight years.
There have been a number of cases involving former senior Taiwanese military officials accused of developing spying networks for China in recent years.
A retired major general in the air force earlier this month received a four-year suspended sentence for accepting meals and trips offered by a Hong Kong businessman allegedly acting on behalf of Beijing, after the court said he showed remorse and had no previous criminal record.
Comments will be moderated. Keep comments relevant to the article. Remarks containing abusive and obscene language, personal attacks of any kind or promotion will be removed and the user banned. Final decision will be at the discretion of the Taipei Times.