'Silicon shield' not enough: expert
NO SUCH THING: Lecturers and public officials in China have suggested that Taiwan's chip dominance was even more reason to invade, a former US official said
Former US deputy national security adviser Matt Pottinger yesterday said Taiwan's "silicon shield" would not deter China from invading the country.
Pottinger made the remark during a teleconference in Taipei when asked about a possible timeline for Beijing to be capable of launching a full-scale invasion of Taiwan.
The former White House official said that people could speculate about a timeline for a cross-strait war, but what was important for all parties involved was to take every possible step to deter that invasion "from ever taking place."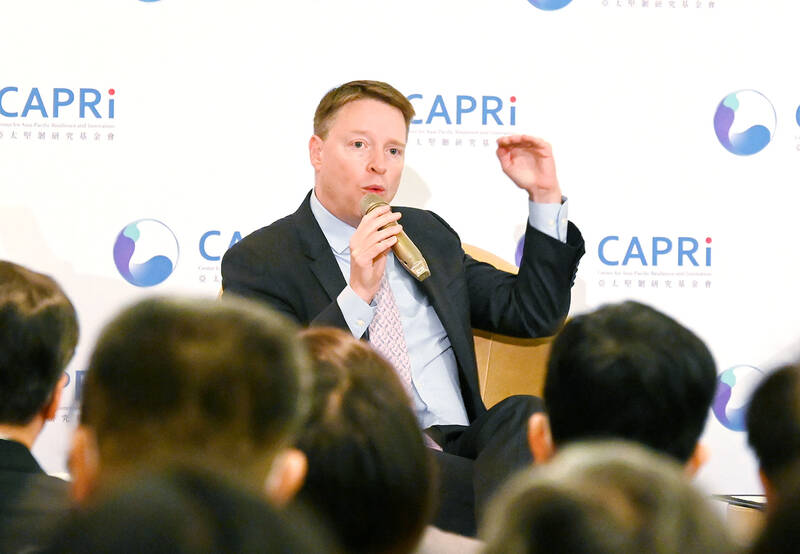 Former US deputy national security adviser Matt Pottinger speaks at an event in Taipei on Wednesday last week.
Photo: Wang Yi-sung, Taipei Times
He went on to dismiss the popular notion that a "silicon shield," meaning Taiwan's strength in producing advanced semiconductors, would help it deter a Chinese invasion.
"I don't think that there is such a thing as a silicon shield," he said.
The leadership in Beijing, whose members have been trained under "Leninist dictatorships," does not share the same logic as people in democratic societies, he said.
"And therefore, I think we should not — we should not kid ourselves that there is a silicon shield," he added.
On the contrary, talks in China have suggested that Taiwan's chip industry gives Beijing a reason to invade.
"I've seen some Chinese nationalistic lectures and public figures who give public talks saying that Taiwan's dominance in semiconductors is a reason why Beijing should invade Taiwan," he said, adding that what the US and Taiwan should do instead is deter an invasion at all costs.
Commenting on recent debate over Taiwan's purchase of anti-tank mines and mine-dispersal systems from the US, Pottinger said the sales are intended to meet Taiwan's defensive needs amid rising Chinese aggression.
"I would ask that people who were raising concerns about that system, [to] also vocalize concerns about the significant increase in missiles and rockets that the PLA [Chinese People's Liberation Army] is deploying against Taiwan right now," he added.
A number of opposition politicians and environmentalists have questioned the army's decision to buy anti-tank munitions through a proposed purchase of Volcano minelaying systems from the US, saying it would litter Taiwan with landmines.
They also said the proposed deal, which was approved by Washington last month, of contravening the UN Ottawa Treaty.
The army has said that it had purchased only metal-cased anti-vehicle mines that would not be accidentally triggered by people stepping on them, adding that such munitions would only be deployed in the event of war.
The army also said that the sale did not breach local laws and international treaties such as the Ottawa Treaty, which only regulates the use of anti-personnel landmines.
Pottinger is a former journalist for Reuters and China-based correspondent for the Wall Street Journal. He served in the US Marine Corps, and from Sept. 22, 2019, to Jan. 7, 2021, he was US deputy national security adviser under then-US president Donald Trump.
Comments will be moderated. Keep comments relevant to the article. Remarks containing abusive and obscene language, personal attacks of any kind or promotion will be removed and the user banned. Final decision will be at the discretion of the Taipei Times.