Shortage of STEM students spurs talent drought
FALLING ENROLLMENT: The ministry of Education has designated a number of science-based sectors as 'national key fields' to help remedy the labor shortage
The semiconductor industry is facing a talent shortage as the proportion of university students majoring in science, technology, engineering and mathematics (STEM) fields has been declining, a report by the Legislative Yuan said.
Subjects in STEM fields include life science, environmental science, physical chemistry, earth science, mathematics, information and communication technology, engineering, manufacturing and processing, as well as building and construction engineering, the Ministry of Education said.
The proportion of STEM students in colleges and universities, as well as STEM graduates in recent years are far lower than those in 1991, the report prepared by the legislature's Budget Center said.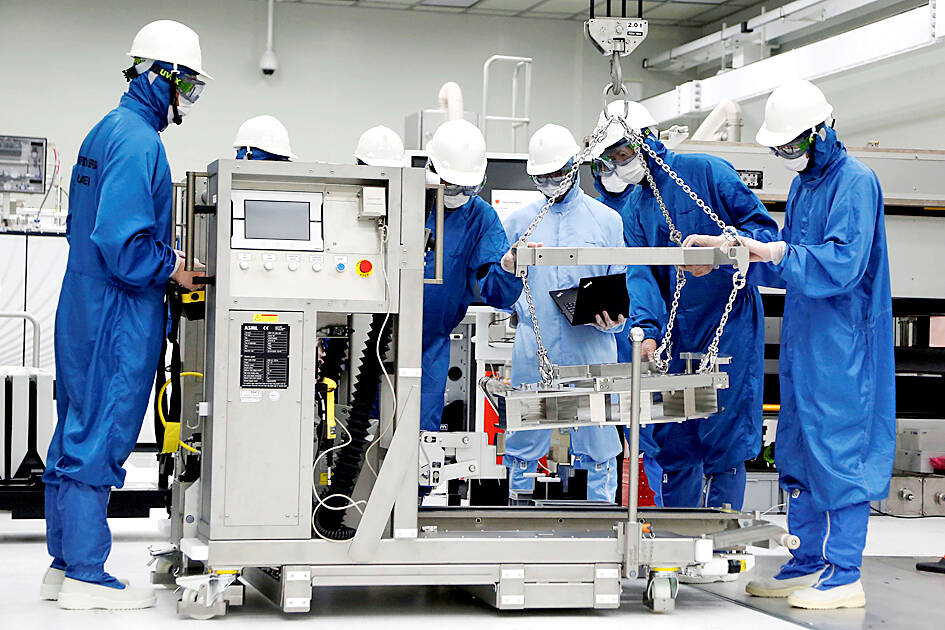 Trainees learn how to build and operate an extreme ultraviolet lithography machine at ASML Holding's training center in Tainan on Aug. 20, 2020.
Photo: Ann Wang, Reuters
The number of doctoral, master's and undergraduate students studying in STEM fields dropped by 17.15 percent from 2012 to 2021, and the number of graduates fell by 21.31 percent from 2011 to 2020, the report said.
The number of doctoral students in STEM fields declined by 26.34 percent from 2012 to 2021 and the number of doctorate holders reduced by 23.63 percent from 2011 to 2020, it said.
The proportion of doctoral, master's and undergraduate students in STEM fields among total students from 2012 to 2021 dropped by 8.9, 1.51 and 1.77 percentage points respectively from 2011 to 2020, it said.
In response to the talent shortage in STEM fields, the ministry has designated semiconductor, artificial intelligence, smart manufacturing, circular economy and finance sectors as "national key fields," it said.
The ministry approved 10 research institutes in these fields set up by nine universities as of the end of July last year, it said.
National Yang Ming Chiao Tung University, National Cheng Kung University, National Tsing Hua University and National Taiwan University have established semiconductor research institutes, it said.
National Sun Yat-sen University has established semiconductor and finance research institutes; National Taiwan University of Science and Technology has established artificial intelligence and smart manufacturing research institutes; National Chung Hsing University has established a circular economy research institute; and National Taipei University of Technology has established an artificial intelligence research institute, it added.
As these institutes are in preliminary stages, the effectiveness remains to be seen, it said.
Talent shortages in the semiconductor industry have been expanding, it said, citing white papers on talent in the semiconductor industry released by 104 Job Bank.
Research and development engineers are the most important roles businesses that are undergoing transformation seek to fill, it said.
However, a lack of students and graduates, especially at the doctorate level, in the STEM fields could exacerbate the shortages, it added.
Comments will be moderated. Keep comments relevant to the article. Remarks containing abusive and obscene language, personal attacks of any kind or promotion will be removed and the user banned. Final decision will be at the discretion of the Taipei Times.