Election in 2024 a choice between war, peace: Ma
Next year's presidential and legislative elections offer a choice between war and peace, former president Ma Ying-jeou (馬英九) said yesterday.
"Vote for the KMT [Chinese Nationalist Party], and there will be no battlefield across the Taiwan Strait," he said.
Speaking at a flag-raising ceremony hosted by the KMT at its headquarters, Ma said the "resist China, protect Taiwan" policy promoted by the Tsai Ing-wen (蔡英文) administration over the past six years had caused an unprecedented increase in cross-strait tensions.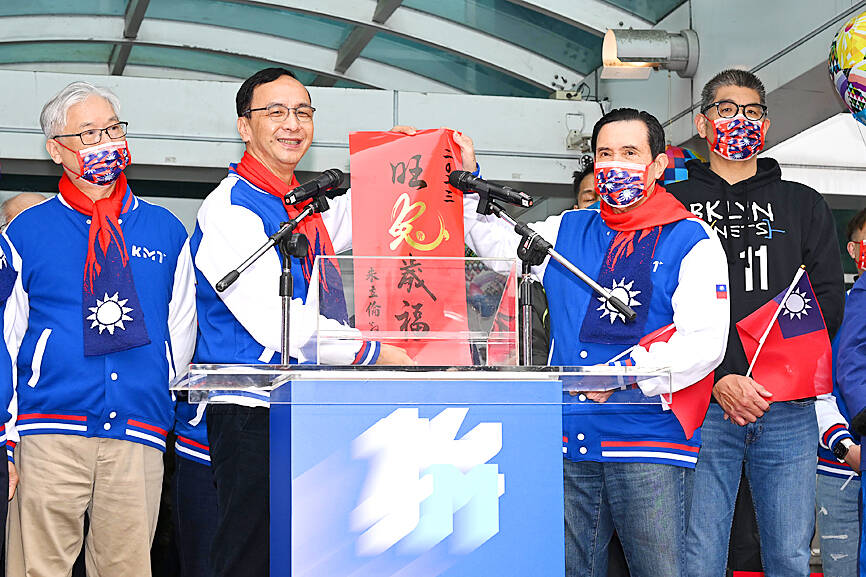 From left, Chinese Nationalist Party (KMT) Vice Chairman Andrew Hsia, KMT Chairman Eric Chu, former president Ma Ying-jeou and KMT Vice Chairman Sean Lien attend a flag-raising ceremony at the party's headquarters in Taipei yesterday.
Photo: Hu Shun-hsiang, Taipei Times
The Democratic Progressive Party's (DPP) cross-strait policy is out of tune with public opinion and has lost public support, said Ma, who served as president from 2008 to 2016.
Taiwan should not only prepare for war, but also avoid war, he said.
Avoiding war means not being provocative, and as a gesture to that end, Taiwan should reopen the "small three links" as soon as possible to ensure national secutiry along with the well-being of Taiwanese, he said.
The "small three links" refer to direct trade, postal and transport services between China and the Taiwanese outlying islands of Kinmen and Matsu. The links were initiated on Jan. 1, 2001, but were suspended in February 2020 amid the COVID-19 pandemic.
Regarding Tsai's restoration of one-year mandatory military service for young men, Ma said: "Vote for the DPP, youth go to the battlefield. Vote for the KMT, there will be no battlefield on either side of the strait."
Ma credited KMT Chairman Eric Chu (朱立倫) for substantial gains in the mayoral and councilor elections on Nov. 26. The KMT won 14 of the 22 city and county leadership posts being contested.
With morale bolstered within the KMT, Ma said the party should work toward victory in the Taipei and Nantou legislative by-elections later this month and in March respectively, as well as the presidential and legislative elections next year.
Addressing the ceremony, Chu said that the KMT is determined to win the legislative by-elections and nominate strong candidates for the national elections.
The KMT must "walk the right path and select the right people" to run in next year's elections, and must be "selfless and united" to achieve its goals, he added.
Comments will be moderated. Keep comments relevant to the article. Remarks containing abusive and obscene language, personal attacks of any kind or promotion will be removed and the user banned. Final decision will be at the discretion of the Taipei Times.