Cash prize rewards Formosan black bear sighting
The Forestry Bureau's Hualien Forest District Office on Friday awarded Hualien resident Manama (蘇明生) a cash reward of NT$8,000 and a commendation plaque for reporting the sighting of a Formosan black bear.
Manama, a member of the Bunun indigenous people, received the reward for reporting the sighting to the office without harming the animal.
Anyone who reports sighting a Formosan black bear without harming it receives a reward of NT$3,000, said Lo Yu-chuan (羅尤娟), head of the bureau's conservation department.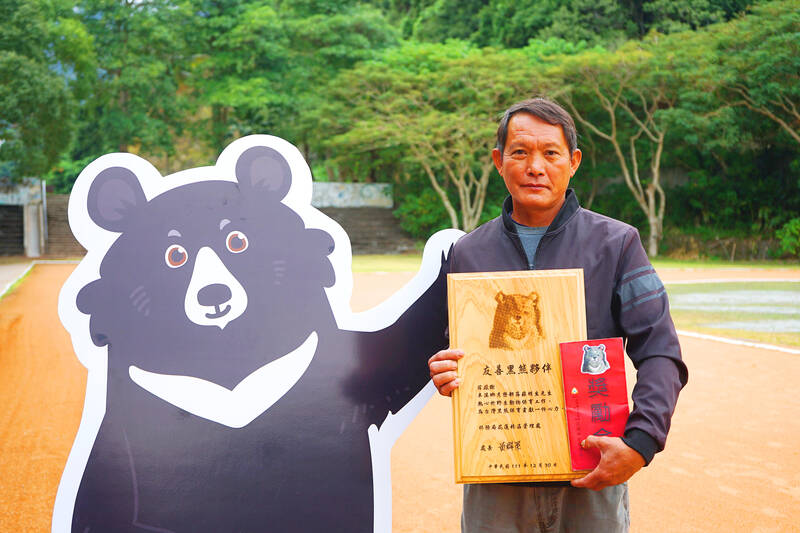 Farmer Manama poses with a cash award and commendation plaque in Hualien County on Friday.
Photo: CNA
Manama was given an additional NT$5,000 for allowing the government to set up cameras around his property in Jhuosi Township (卓溪) to monitor the activities of the bear, Lo said.
Manama received the award as part of a bureau program to promote awareness and conservation of endangered animals and their habitats.
The Formosan black bear was added to the program in October last year, with rewards covering 60 townships in 13 counties.
Manama's report marked the first time the program has issued a reward for a black bear, Lo said.
Speaking with reporters on Friday, Manama said he first became aware there was a bear on his property when his son on Dec. 21 told him that the family's chicken coop had been ransacked.
After checking the coop the following day, he became certain it was the work of a bear, with one hen missing and feed eaten, Manama said.
Manama notified the Hualien Forest District Office, which subsequently found black bear fur and excrement.
The office got permission from the landowner to set up three cameras around his property, which captured footage of the bear on the nights of Friday and Saturday last week.
The office said the footage indicated the bear had been helping itself to Manama's supplies, suggesting it had been in the area for a while.
Following confirmation of the bear's existence, the office instructed people in Manama's village to remove their chicken coops to discourage the bear's nighttime activities.
The bear has not been sighted since Sunday last week, the office said, adding that surveillance would continue for three months to make sure it does not return.
Manama explained that he informed the bureau of the bear sighting instead of harming it because the Bunun people have a long-held respect for the animal.
Manama said it was the first time he has seen a Formosan black bear in the 50 years he has lived in the village, and he had no desire to hurt the animal regardless of the damage it caused to his property.
Comments will be moderated. Keep comments relevant to the article. Remarks containing abusive and obscene language, personal attacks of any kind or promotion will be removed and the user banned. Final decision will be at the discretion of the Taipei Times.