New TAO head indicates Beijing's focus on Taiwan
The appointment of Song Tao (宋濤) as director of China's Taiwan Affairs Office (TAO) shows that Beijing is giving higher priority to Taiwan affairs, cross-strait relations expert Chang Wu-ueh (張五岳) said.
Song, a 67-year-old veteran Chinese diplomat, replaced 65-year-old Liu Jieyi (劉結一) as the head of the TAO, which handles the guidelines and policies of the Chinese State Council related to Taiwan, the TAO said in a statement on Wednesday last week.
Having Song, who served in the upper echelon of the Chinese Communist Party (CCP) at the "deputy state level," lead the TAO is indicative of Beijing giving "greater importance" to what it calls the Taiwan issue, said Chang, an associate professor at Tamkang University's Graduate Institute of China Studies, referring to Song's membership in the then-204-seat 19th CCP Central Committee from 2017 to last year.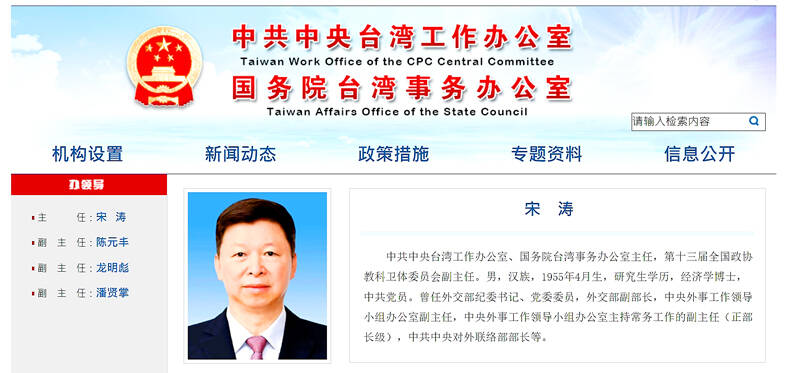 The profile of China's Taiwan Affairs Office director Song Tao is pictured in a screen grab.
Photo: screen grab from the Web site of China's Taiwan Affairs Office
Song is likely to be named as one of the 24 vice chairpersons of the 14th National Committee of the Chinese People's Political Consultative Conference, a nominal advisory body under the CCP's United Front Work Department, when it convenes for its first session in March, Chang said.
The arrangement should "facilitate coordination" among the CCP's departments in their handling of Taiwan affairs, Chang said.
However, daily Japanese Sankei Shimbun's Taipei bureau head Akio Yaita said the appointment of Song as head of the TAO was "jaw-dropping" news because he was not elected to the CCP Central Committee at the party's National Congress in October last year.
Chances are that Song could find himself at a loss when something comes up that requires him to exercise judgement, as he is not involved in the operations of the Central Committee, Yaita wrote on Facebook on Friday.
Liu and his two predecessors, Zhang Zhijun (張志軍) and Wang Yi (王毅), were members of the CCP's Central Committee, putting them on an equal footing with province-level heads and with the ability to settle problems of Taiwanese businesses in China simply by making a call to local officials, Yaita said.
A call from Song might not carry as much weight with local officials because unlike his predecessors in the Central Committee, he is an ordinary CCP member, Yaita said.
The last position Song held in the Chinese government was head of the CCP's International Liaison Department from 2015 to last year.
Prior to that, he was executive deputy head of the Foreign Affairs Office, the execution arm of the Foreign Affairs Leading Group; vice minister of the Ministry of Foreign Affairs, and ambassador to Guyana and the Philippines.
After Song left the International Liaison Department, a ministerial-level agency that manages the CCP's relations with foreign political parties, international political organizations and overseas political elites, many people thought he would retire from politics, Yaita said.
Song might have been appointed to the TAO post because he worked in Fujian Province when Chinese President Xi Jinping (習近平) served as provincial governor from 1999 to 2002, and was considered a close confidant of Xi, Yaita said.
Separately, asked to comment on Thursday on TAO's new leadership, Mainland Affairs Council spokesperson Chiu Chui-cheng (邱垂正) said Beijing should refrain from employing coercive measures against Taiwan.
CCP authorities should respect the values Taiwanese hold dear, including defending Taiwan's sovereignty, freedom and democracy, and take actions to improve cross-strait relations, Chiu said.
Comments will be moderated. Keep comments relevant to the article. Remarks containing abusive and obscene language, personal attacks of any kind or promotion will be removed and the user banned. Final decision will be at the discretion of the Taipei Times.