Air force to finish overhaul of ejection seats in all F-5s by the end of the year
The air force is to finish installing new ejection seats on all of its F-5 jets by the end of this year, a military source said on Saturday.
The new ejection seats would hopefully end a long-standing safety issue that has led to the death of at least two pilots, the source said.
The Ministry of National Defense last year budgeted NT$746.5 million (US$24.31 million) to install 70 Mk16 ejection seats manufactured by Martin-Baker Aircraft Co on the nation's fleet of 70 F-5s.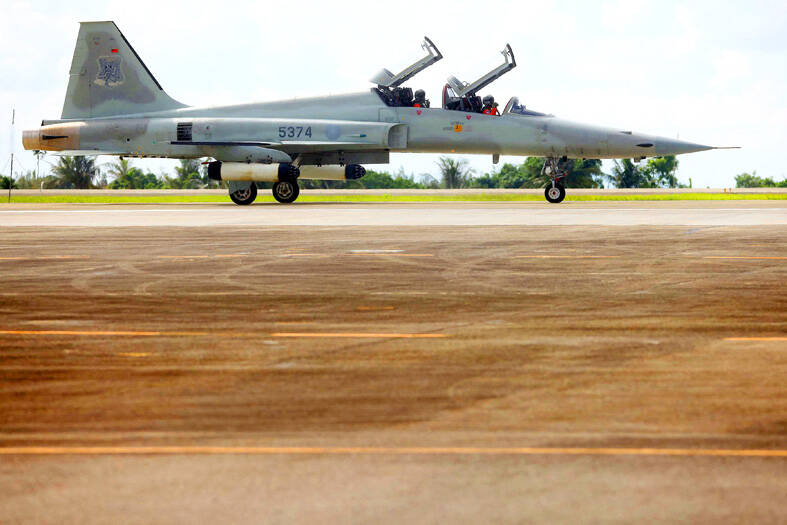 Pilots sit in a F-5 jet at an air force base in Taitung on July 6.
Photo: Ann Wang, REUTERS
The plan was announced after three pilots were killed within a year in incidents involving F-5E jets, leading to speculation that malfunctioning ejection seats contributed to the incidents' fatal outcomes.
On Oct. 30, 2020, air force Captain Chu Kuan-meng (朱冠甍), 29, ejected from an F-5E during a drill after the jet's engine malfunctioned. He was later found dead. A postmortem found head trauma and concluded that he died of cerebral bleeding-induced neurogenic shock.
On March 22 last year, air force Lieutenant Luo Shang-hua (羅尚樺), 26, died after his F-5E jet sideswiped another jet, piloted by Captain Pan Ying-chun (潘穎諄), 28. Both pilots died. Luo's body was found four weeks after the incident.
A postmortem determined that Luo died of neurogenic shock, while forensic examiners could not determine Pan's cause of death.
The ministry later confirmed that mechanical defects were found in Chu's and Luo's ejection seats.
The incidents happened less than six months apart, sparking concern among lawmakers and members of the public, and prompting the ministry to allocate funds for new ejection seats.
The air force installed the first new ejection seat in December last year, and as of the end of June had installed 24 seats, a source said, speaking on condition of anonymity.
All 70 new ejection seats are to be installed by the end of this year, they said.
The air force said that the new seats are compatible with the domestically produced T-BE5A "Brave Eagle" Advanced Jet Trainers, so the same seats would be installed on them before they replace the F-5s in 2024.
The decades-old F-5s are mostly used for training purposes, although they could be called into action during wartime, another unnamed air force source said.
Comments will be moderated. Keep comments relevant to the article. Remarks containing abusive and obscene language, personal attacks of any kind or promotion will be removed and the user banned. Final decision will be at the discretion of the Taipei Times.