KMT's Huang Min-hui re-elected as Chiayi mayor
Chiayi Mayor Huang Min-hui (黃敏惠) of the Chinese Nationalist Party (KMT) was yesterday re-elected, defeating the Democratic Progressive Party's (DPP) candidate, Lee Chun-yi (李俊俋), and three independent candidates running in an election that had been postponed following the death of a candidate.
Huang is to serve a fourth term. She was first elected in 2005 and re-elected in 2009. She won the Chiayi mayoral election again in 2018, succeeding Twu Shiing-jer (涂醒哲) of the DPP, who had served four years. If Huang serves a full term, she would become the nation's longest-serving local government head.
Yesterday's election was originally scheduled for Nov. 26, but was postponed following the death of independent candidate Huang Shao-tsung (黃紹聰) on Nov. 2.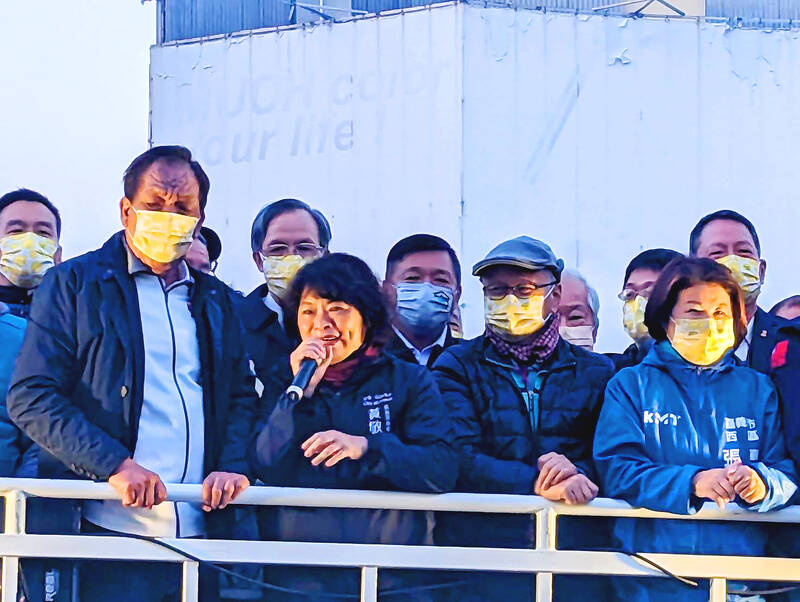 Chiayi Mayor Huang Min-hui, front, second left, thanks supporters for their votes after winning the mayoral election yesterday.
Photo: Wang Shan-yan, Taipei Times
Article 30 of the Civil Servants Election and Recall Act (公職人員選舉罷免法) requires an election to be rescheduled if a candidate passes away between the deadline for registration and the day before the vote.
The Chiayi City Election Committee yesterday said it had set up 193 polling stations for the city's 214,130 eligible voters.
However the voter turnout was only about 43 percent, it said.
Voting ended at 4pm yesterday. After one hour of counting, Huang Min-hui had already garnered 50,000 votes, surpassing the threshold of about 46,000 votes for winning the election.
At about 5:10pm, she unilaterally declared victory. Standing on an election campaign vehicle in front of her campaign headquarters, Huang Min-hui thanked her supporters, saying that the victory is not hers alone, but also a victory for Chiayi, "the holy land of democracy."
At about 5:30pm, Lee conceded defeat at his election campaign headquarters, and also thanked Chiayi residents for their support and encouragement.
Speaking to his supporters, he said although he had worked very hard, he failed to fulfill their wish and become mayor.
Lee said he alone is responsible for the loss, adding that he would reflect on the reasons and what he would do in the future.
Lee said he has called Huang Min-hui to congratulate her, adding that she would hopefully implement some of the policies he had proposed during his campaign.
His proposals were based on the wishes of the city residents, and if Huang puts them into practice, it would make Chiayi a better place, he said.
Comments will be moderated. Keep comments relevant to the article. Remarks containing abusive and obscene language, personal attacks of any kind or promotion will be removed and the user banned. Final decision will be at the discretion of the Taipei Times.