TPP to focus on 2024, re-elected chairman says
SECOND TERM: The 2024 elections, for which Ko Wen-je is expected to handpick the candidates for the TPP, could 'make or break' him, a source said
Newly re-elected Taiwan People's Party (TPP) Chairman Ko Wen-je (柯文哲) on Saturday said that his upcoming departure from the Taipei mayoral office would allow the TPP to fully focus on cultivating talent ahead of the 2024 elections.
Hours after his re-election, Ko wrote on social media that his top priority during his second term as TPP chairman would be improving the party's organizational structure.
This would include implementing an open and fair selection, promotion and assessment system for leadership and grassroots positions, Ko said.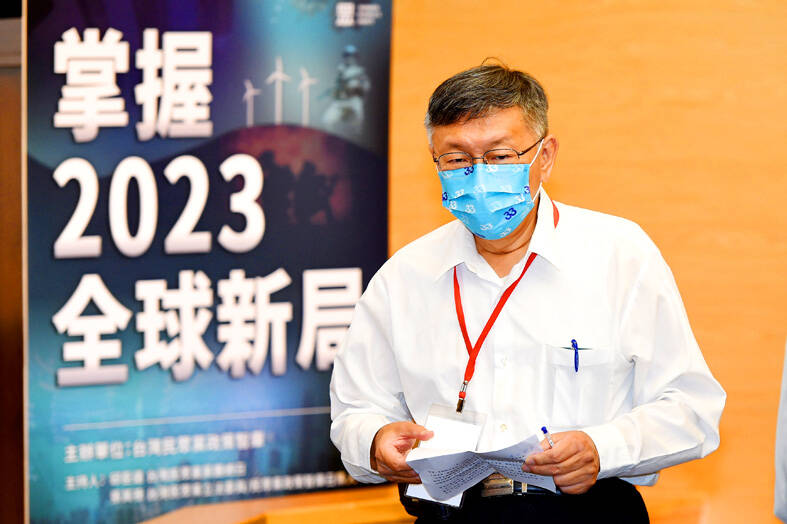 Taipei Mayor Ko Wen-je attends an event hosted by the Taiwan People's Party (TPP) in Taipei on Dec. 3 in his capacity as TPP chairman.
Photo: George Tsorng, Taipei Times
Splitting his time between the TPP and his duties as mayor in the three years since the party's founding had led to internal disputes, Ko said, vowing to devote himself to the development of the party.
Ko lauded the TPP's strong showing in the local elections last month, in which the party's candidates won the mayoral vote in Hsinchu, as well as 14 city and county councilor races.
Adressing TPP members, Ko said that as a minor political party, the TPP must position itself to "serve the people" by being innovative, serious and responsible.
Observers have said that while the TPP would seek to win additional legislative seats in 2024, its main objective would be winning the presidential election, with Ko being its likely candidate.
Among those who were on Saturday elected to leadership positions within the party were Taipei Department of Information and Tourism Commissioner Liu Yi-ting (劉奕霆); Ko's sister, Ko Mei-lan (柯美蘭); former TPP spokesman Jimmy Chang (張清俊); and Shih Shu-ting (施淑婷), a candidate of the party for Hsinchu City councilor in last month's elections.
Ko Wen-je's first challenge after he starts his second term on Jan. 1 would be to help the TPP regroup and identify strong candidates for legislative elections, party sources said.
With Ko Wen-je expected to gain total control over the TPP's Central Committee, the candidates fielded by the party could "make or break" Ko Wen-je, who would have to shoulder the ultimate responsibility if the party underperforms in the 2024 elections, they said.
While the pan-green and pan-blue camps believe that Ko Wen-je is likely to run for president, they believe that he is unlikely to win, the sources said.
Ko Wen-je should seek to create a "third force" by teaming up with Hon Hai Precision Industry Co founder Terry Gou (郭台銘) or former New Power Party lawmaker Huang Kuo-chang (黃國昌), they said.
Comments will be moderated. Keep comments relevant to the article. Remarks containing abusive and obscene language, personal attacks of any kind or promotion will be removed and the user banned. Final decision will be at the discretion of the Taipei Times.