Group in Japan pans lawmakers over 'interference'
'PROXIES OF THE PRC': The lawmakers might have tried to shield Tokyo from any cross-strait fallout by having Kishida reject Taiwanese independence, a diplomat said
A Tokyo-based Taiwanese organization on Tuesday blasted two Japanese lawmakers for their attempts to have Japanese Prime Minister Fumio Kishida publicly oppose Taiwanese independence.
The All Japan Taiwanese Union in a statement criticized main opposition Democratic Party of Japan lawmakers Yoshinori Suematsu and Katsuya Okada for their attempts to have Kishida speak about the issue during two separate Diet sessions on Oct. 17 and on Tuesday last week.
During last week's session, Suematsu asked Kishida to publicly oppose Taiwanese independence, said the union, which is a coalition of Taiwanese groups in Japan.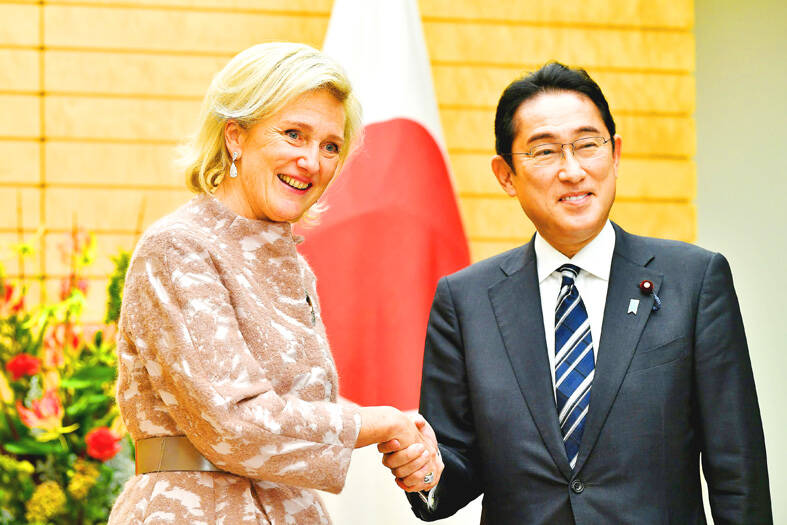 Japanese Prime Minister Fumio Kishida, right, welcomes Princess Astrid of Belgium at the prime minister's official residence in Tokyo on Monday.
Photo: Reuters
During the Oct. 17 session, Okada, a former foreign minister, asked Kishida to voice a stance on the issue.
"If Taiwanese think that declaring independence is supported [by Japan], more Taiwanese will be encouraged to do so," he said.
He cited US Secretary of State Antony Blinken as saying that Washington does not support the independence of Taiwan, calling on Kishida to go on the record in the Diet in opposing Taiwanese independence.
In response to Okada's call, Kishida said that Japan and Taiwan were important partners with shared values.
Based on the Japan-China Joint Communique signed in 1972 when Japan recognized the People's Republic of China (PRC), Japan maintained practical, but unofficial relations with Taiwan, he said.
Kishida reiterated Tokyo's stance that maintaining cross-strait peace and stability is important, while expressing the hope that cross-strait disputes can be resolved through peaceful dialogue.
The union accused the two lawmakers of interfering in Taiwan's internal affairs while disregarding the rights and sentiments of Taiwanese.
"Their remarks are ridiculous and unbearable," the union said.
The union cited US President Joe Biden's interview with CBS on Sept. 18 in which he said "we [the US] are not moving — we're not encouraging — their [Taiwanese] being independent. That's their decision."
Quoting Biden, the union said the US' stance on the matter respected and upheld the principle of "national self-determination."
The union accused Okada of misinterpreting the US' stance on the Taiwan independence issue.
It protested in the strongest terms the lawmakers "who were speaking as if they were proxies of the PRC," urging them to retract their statements on the issue and apologize to Taiwanese.
Representative to Japan Frank Hsieh (謝長廷) told local media that Kishida had shown wisdom by not giving a direct answer to the requests.
Hsieh reminded the two lawmakers that Beijing not only opposes Taiwan independence, but also the cross-strait "status quo."
Beijing continues to threaten Taiwanese with military consequences if it refuses to unify with China, Hsieh said.
He said he believes the two lawmakers made the request for the security of Japan, as they feared Tokyo could be put into a dangerous situation due to Taiwan-China tensions.
Hsieh said that Japan, not Taiwan, is the main enemy of China, due "widespread anti-Japan sentiment" in China.
Japan should face up to this reality, as Beijing would make Tokyo its "No. 1 target" to divert attention from domestic troubles, in particular because there are US military bases in Japan, he said.
Therefore, Taiwan and Japan should engage in talks on how to evacuate each other's nationals if a war breaks out across the Taiwan Strait or between China and Japan, Hsieh said.
There is no direct government-to-government channel to address the issue, he said, calling on both sides to begin talks by establishing two-way disaster relief cooperation.
Comments will be moderated. Keep comments relevant to the article. Remarks containing abusive and obscene language, personal attacks of any kind or promotion will be removed and the user banned. Final decision will be at the discretion of the Taipei Times.