Art fair to be held in a Kaohsiung hotel
SPATIAL BOUNDARIES: Forty suites in the resort are to become gallery spaces, aiming to 'bring you closer to the art than in an art gallery,' artist Kristy Chu said
The first edition of the STAART Illustration Art Fair is scheduled to take place at the TAI Urban Resort in Kaohsiung from Dec. 22 to 25, featuring more than 500 works by 90 Taiwanese and other Asian artists displayed in hotel rooms, the fair's organizers said.
Forty hotel suites at the resort are to become galleries, displaying illustrations with a visual narrative, as the fair aims to enhance artworks by blending them with hotel decor, organizers said.
Among the artists included are Taiwanese author-illustrator Ballboss, whose pieces incorporate commercial motifs in works that explore the boundaries between visual and performing arts in a range of spaces.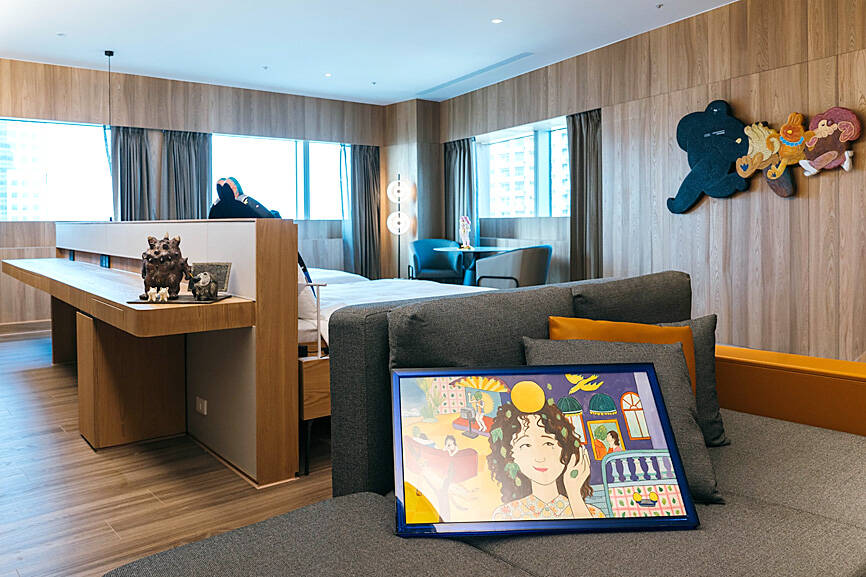 Art to be displayed in TAI Urban Resort hotel rooms as part of the STAART Illustration Art Fair from Dec. 22 to 25 are pictured in Kaohsiung in an undated photograph.
Photo courtesy of the STAART Illustration Art Fair
His brand, Ballboss & Stories, received the Taiwan's Stars of Culture and Creativity award in 2016 and 2017, while his illustrations were nominated at the Bologna Children's Book Fair in 2019 and this year.
Taiwanese street artist Mister OGAY (黑雞先生), who has taken part in graffiti projects in Japan, China and New York, also plans to feature works at the fair.
Mister OGAY's graffiti art motifs often feature nearly naked male figures, and since his debut in the graffiti scene in 2000, his works have frequently appeared on walls across Taiwan.
Mister OGAY's works reinterpret the relationships between institutions, society and the environment, as he subverts social values by excluding shallow appearances and encouraging consideration of the deeper nature of human affairs from different perspectives.
Another artist to have his works featured at the event is South Korean concept artist Jamsan, who worked on the children's storybooks that appeared in the smash-hit Netflix drama series It's Okay Not to Be Okay.
Taiwanese celebrity and artist Kristy Chu (曲家瑞) said that she is excited about the upcoming event, as having works displayed in hotel rooms minimizes the distance between people and art.
"You can imagine the work being displayed in your home, like in your living room and bedroom, and it brings you closer to the art than in an art gallery," Chu said.
Chu plans to feature a collection of works centered around portraits of secondhand toys at the art fair.
"I've had some of these toys for more than 20 years, so they are like my friends, my kids, a part of my family, and I decided to do portraits of them," Chu said.
Comments will be moderated. Keep comments relevant to the article. Remarks containing abusive and obscene language, personal attacks of any kind or promotion will be removed and the user banned. Final decision will be at the discretion of the Taipei Times.