Mandatory 1-year military service essential: analyst
The government should proceed with its plan to lengthen mandatory military service from four months to one year, regardless of the Democratic Progressive Party's (DPP) losses in the local elections on Saturday, a defense expert said on Wednesday.
As China has made strides in bolstering its offensive capabilities, Taiwanese armed forces face a demographic shift that is undermining recruitment efforts necessary to sustain a volunteer military, Institute of National Defense and Security Research analyst Su Tzu-yun (蘇紫雲) said.
The DPP's stance on conscription was not a significant factor in its electoral performance, Su said, citing surveys that showed 65 percent of Taiwanese support a reverting to a one-year military draft, he said.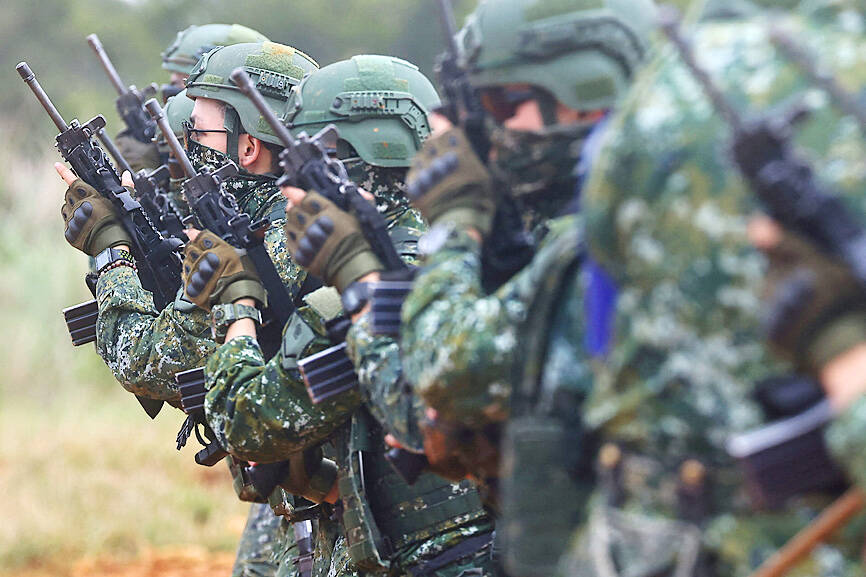 Soldiers train at a base in in Hsinchu on March 25.
Photo: Ann Wang, Reuters
Military conscription affects Taiwan's security and survival, and was too important a matter to be politicized in the local elections, Su said.
Taiwan's armed forces recruited an average of 14,000 volunteer soldiers per year from 2016 to last year, he said, adding that the nation had 110,000 military-aged men in 2016.
Census data show that the number of Taiwanese military-aged men could fall to about 74,000 people by 2025, which would lower enlistments to about 9,000 soldiers per year, he said.
These enlistments would not be enough to sustain a volunteer force, he added.
Modern warfare technology could make up for of some loss of reservists, some experts have said, but human skill and courage are more often the decisive factor in battle, Su said.
The Chinese People's Liberation Army's emphasis on ambitious warfare through joint air, sea and land operations poses a steep challenge for Taiwanese forces, as defeating such an attack would likely require a resilient citizen army, he said.
Utilizing conscripts to meet the requirements of nontechnical branches of the military could bolster Taiwan's ability to counter a Chinese assault, he added.
Minister of National Defense Chiu Kuo-cheng (邱國正) told lawmakers in October that four months of military service is not enough to instill basic combat skills.
He suggested that the Ministry of National Defense invoke Articles 16 and 34 of the Military Service System Act (兵役法), which enable the ministry to lengthen mandatory military service without making legislative changes.
The ministry has made the logistical, organizational and human resources plans necessary to implement a longer draft, an official familiar with the matter said on condition of anonymity on Wednesday.
Comments will be moderated. Keep comments relevant to the article. Remarks containing abusive and obscene language, personal attacks of any kind or promotion will be removed and the user banned. Final decision will be at the discretion of the Taipei Times.