Control Yuan to probe ban on voting with virus
Two members of the Control Yuan yesterday said they would launch an investigation into a voting ban on eligible voters who had COVID-19 on election day.
The measure was implemented by the Central Election Commission before Saturday's nine-in-one local elections, barring people who were ordered to quarantine after testing positive for the virus or being a listed contact of a COVID-19 case from voting.
Control Yuan members Chi Hui-jung (紀惠容) and Yeh Ta-hua (葉大華) said in a statement that the guidelines, published on Sept. 15, could have infringed on people's voting rights.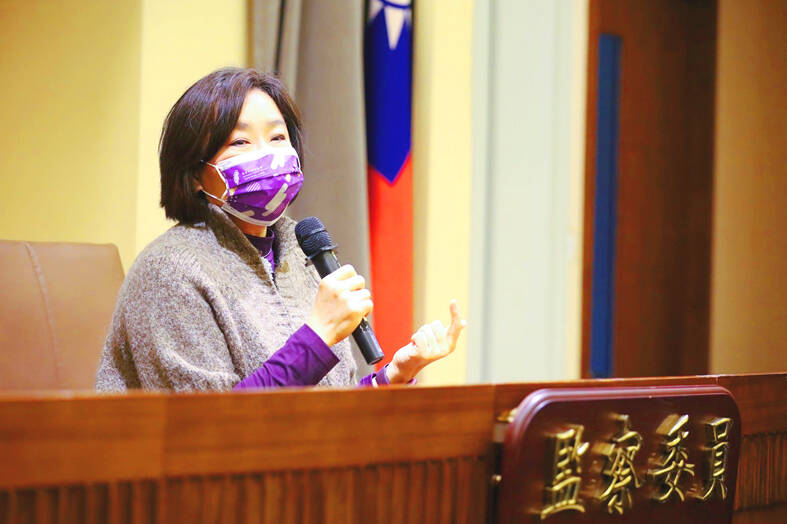 Control Yuan member Chi Hui-jung speaks at the Control Yuan on Feb. 11.
Photo: CNA
They said that the ban likely affected voter turnout and the result of a referendum on lowering the voting age to 18 from 20, which failed to pass as it did not receive the required number of "yes" votes, despite receiving more "yes" votes than "no" votes.
The proposal received 5.64 million "yes" votes, well short of the threshold of 9.62 million required to pass.
Chi and Yeh said they would investigate the decisionmaking process that led to the ban, whether the measure was unconstitutional and whether the commission could have introduced alternatives to ensure people's right to vote, despite Taiwan not allowing mail-in voting.
The Central Epidemic Command Center (CECC) on Nov. 18 said that people who left isolation to vote risked a fine of NT$200,000 to NT$2 million (US$6,472 to US$64,721) or a prison term of up to two years, as stipulated in Article 13 of the Special Act for Prevention, Relief and Revitalization Measures for Severe Pneumonia with Novel Pathogens (嚴重特殊傳染性肺炎防治及紓困振興特別條例).
The article defines the penalties for people with COVID-19 who fail to quarantine, but does not contain any language specific to voting.
The CECC said that ballots cast by people with COVID-19 would be counted despite the ban.
Before the election, Deputy Minister of Health and Welfare Victor Wang (王必勝), who heads the center, said that about 65,000 voters would be affected by the ban, urging them not to vote.
Comments will be moderated. Keep comments relevant to the article. Remarks containing abusive and obscene language, personal attacks of any kind or promotion will be removed and the user banned. Final decision will be at the discretion of the Taipei Times.