Subvariants might spark January wave, expert says
'IMMUNITY WANES': The next wave of infections would likely have fewer cases than previous virus outbreaks, NTU College of Public Health professor Tony Chen said
Wearing masks and social distancing should still be recommended in four types of settings, as a COVID-19 wave caused by new Omicron subvariants of SARS-CoV-2 might occur in the middle of next month, National Taiwan University (NTU) College of Public Health professor Tony Chen (陳秀熙) said yesterday.
Chen made the comment after the Central Epidemic Command Center announced that people would from today no longer need to wear a mask outside.
He suggested that Taiwan implement a double-track method that focuses on select disease prevention measures, such as enhancing immune protection from infection and through vaccination, and self-disease prevention, while other restrictions should be lifted in phases.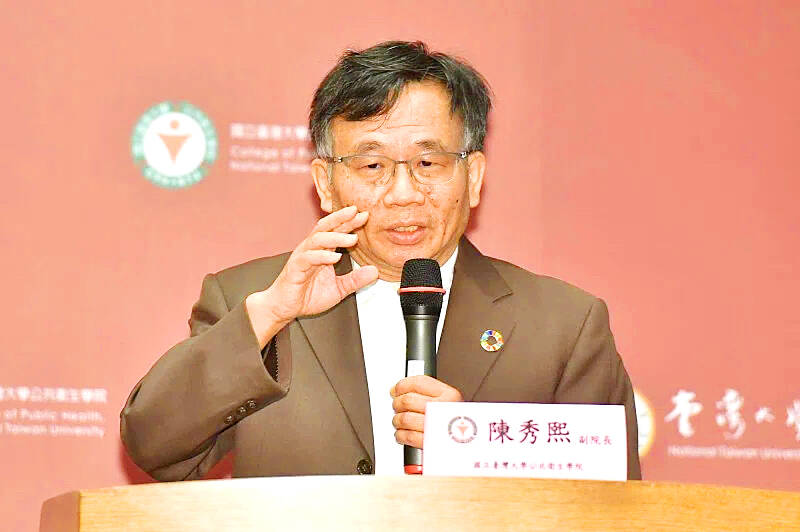 National Taiwan University College of Public Health professor Tony Chen speaks at a news conference at the university in Taipei in an undated photograph.
Photo: Lo Chi, Taipei Times
As immunity from vaccination wanes — especially as early vaccines did not target the Omicron variant, which emerged after they were developed — people should get inoculated with newer bivalent vaccines, he said.
Chen said self-disease prevention guidelines seek to reduce reinfection and protect people who are vulnerable and might develop severe symptoms or die if they are infected.
People should wear a mask and practice social distancing on public transportation, at public gatherings, large events and in healthcare facilities, as the spread of a new subvariant might lead to a large outbreak, he said.
Masking, social distancing and other personal preventive measures are also recommended during holiday gatherings, especially if vulnerable family members are involved, he added.
Lifting most restrictions would allow society to return to normal, Chen said, adding that people should not worry too much, as the local community has built up immunity.
People should feel free to resume holiday celebrations, travel overseas and help the economy recover from the COVID-19 pandemic, Chen said.
However, he said new subvariants have been detected among local cases, and a new wave of infections might occur in the middle of next month, as year-end and New Year's Eve events might contribute to a spike in cases.
However, the next wave is expected to have fewer cases than previous ones, he said.
Commenting on the COVID-19 situation in China, Chen said that a large outbreak might occur there.
Chinese have had little exposure to the virus, as Beijing has maintained a "zero COVID-19" policy throughout the pandemic and the domestically developed vaccines, which target earlier variants, offer increasingly less protection for those who received them soon after they became available, he said.
"If the zero COVID-19 strategy continues, [China] will certainly pay a significant cost," he said.
The country might have more than 1 million cases per day by the end of this month, he said, adding that the number of severe cases and deaths from the disease would also increase.
The best way to prevent that would be administering bivalent vaccines, Chen said.
Comments will be moderated. Keep comments relevant to the article. Remarks containing abusive and obscene language, personal attacks of any kind or promotion will be removed and the user banned. Final decision will be at the discretion of the Taipei Times.