Twenty-five groups to attend five-day Asian trail event
Twenty-five organizations from 10 countries and regions are to participate in the Asia Trail Conference in Taipei from tomorrow.
Taiwan is to share three national greenways with the international community at the five-day conference, which has the theme "together, we go further," Taiwan Thousand Miles Trail Association deputy director Hsu Ming-chien (徐銘謙) said.
The Mountains to Sea National Greenway — a 177km path in Tainan and Chiayi County that includes the top of Jade Mountain and a section in Taijiang National Park — and the Bruce Trail in southern Ontario, an 890km path between the Niagara River and the town of Tobermory, Ontario, are to become friendship trails at the conference, Hsu said.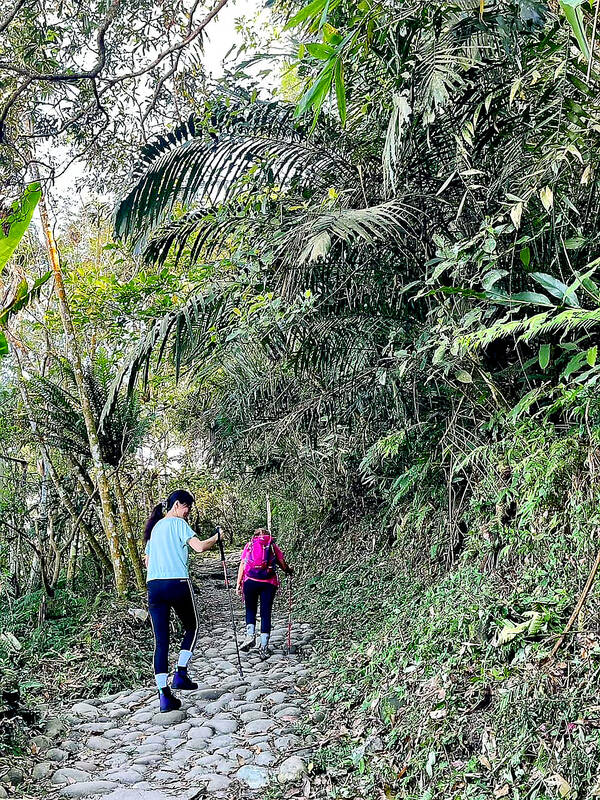 People walk on the Guanzihling Dadong trail in Tainan on Nov. 6.
Photo: Wang Han-ping, Taipei Times
A landmark commemorating the friendship between the Mountains to Sea National Greenway and the Bruce Trail would be installed on the path on Sunday afternoon, he said.
Premier Su Tseng-chang (蘇貞昌) and Council of Agriculture officials are to attend the conference's opening ceremony, Hsu said.
Hiking experts from trail organizations are to speak, including Appalachian Trail Conservancy representative Laura Belleville and Japan Long Distance Trail Association representative Kojima Shinichi, Hsu said.
On Sunday, conference participants are to walk two routes on the Tamsui-Kavalan Trails in New Taipei City's Shiding District (石碇), he said.
The trails were important paths connecting Taipei and Yilan County in the 18th and 19th centuries, he said.
On Monday, participants are to hike three routes on the Raknus Selu Trail, also known as the Camphor Trail, in Hsinchu and Miaoli counties, he said.
In the 19th century, the mountain paths connecting Taoyuan and Taichung were used to transport lumber.
Participants would also experience path building on one of the Taipei Grand Trails, Hsu said.
Comments will be moderated. Keep comments relevant to the article. Remarks containing abusive and obscene language, personal attacks of any kind or promotion will be removed and the user banned. Final decision will be at the discretion of the Taipei Times.