Turkish artist seeks to inspire students at Pingtung school
On a Sunday afternoon in Pingtung County's Linbian Township (林邊), third-grader Lin Li-cheng (林立誠) watched with excitement as an artist painted an illustration outside his elementary school.
Colorblind Turkish artist Faith Kucuk was painting a red-haired girl lying in front of the school's entrance while reading a colorful book.
Kucuk arrived in Taiwan on a 10-hour flight from Istanbul on Nov. 19, and immediately took a High Speed Rail train to Ci Fong Elementary School to start the project.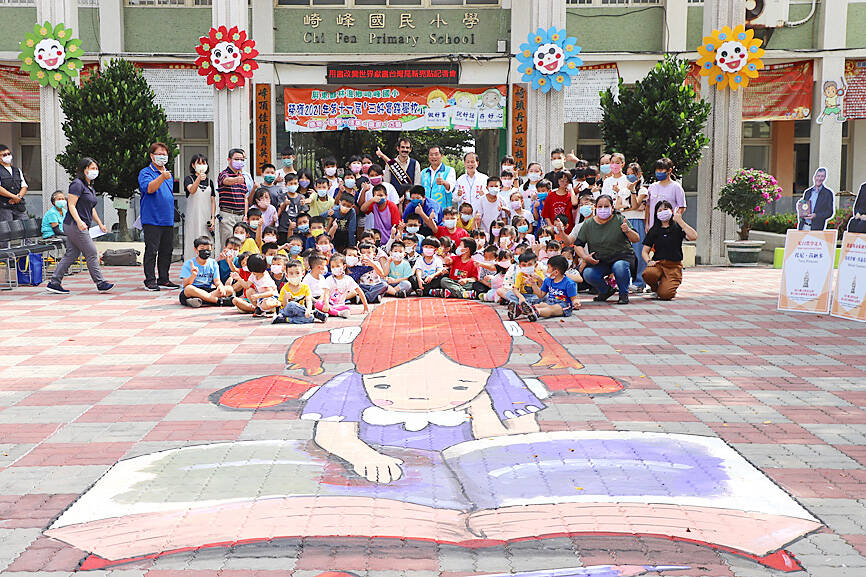 Turkish artist Faith Kucuk, standing with sash, attends an unveiling ceremony for his painting at Ci Fong Elementary School in Pingtung County's Linbian Township on Tuesday last week.
Photo: CNA
It was his fourth illustration in Taiwan, after creating similar visual spectacles at schools in Taitung County, Chiayi County and Alishan.
He has created pieces at more than 20 schools around the world, including in Belarus, France, Georgia, Japan, Kazakhstan, Kyrgyzstan, Norway, Portugal, Russia, South Korea, Spain and Ukraine.
Kucuk said he travels the globe as a volunteer artist because he believes art makes the world better.
He has traveled to more than 200 schools in Turkey for the same reason, he said.
In Turkey, he founded The Cartoon Mill to teach art and animation in Kas and the Cappadocia region.
For two days in Linbian, Kucuk's art drew the attention of the 80 students enrolled in the school.
Many students used their recess to check on the artist's progress, asking Kucuk questions such as why the girl had red hair instead of black.
Kucuk was not shy about interacting with the children, and he sometimes passed his paint brush to students such as Lin so that they could participate in the project.
"The students all seem to be very excited today," Kucuk said as he worked.
He said he hoped the project would inspire the students.
"I hope that they never lose the same sense of happiness and excitement... No matter what they choose to pursue as their career in the future, I hope they will always be able to convey honesty, kindness and beauty to those around them," he said.
Ci Fong Elementary School principal Kuo Hsi-te (郭希得) said that although the school's 65-year-old building is to be demolished and rebuilt next year, Kucuk's work would be preserved so that it remains with the school and its students for a long time.
Kuo added that the school might also recreate the artwork as a wall mosaic on the new building.
Kucuk is also in Taiwan to receive a Fervent Global Love of Lives Award from the Chou Ta-Kuan Cultural and Educational Foundation.
He is to join other award winners early next month in traveling the country to participate in charity events.
Comments will be moderated. Keep comments relevant to the article. Remarks containing abusive and obscene language, personal attacks of any kind or promotion will be removed and the user banned. Final decision will be at the discretion of the Taipei Times.