Taichung campaign closes on corruption, air quality
The mayoral election campaign in Taichung centered on allegations of abuse of power and problems with air pollution in its closing days, as Democratic Progressive Party (DPP) candidate Tsai Chi-chang (蔡其昌) accused the mayor of overstepping the boundary between government and politicking.
Tsai said his campaign team had received complaints from borough wardens and neighborhood wardens that they had received an administrative order from the city government to bring a quota of local residents to tonight's campaign event for Taichung Mayor Lu Shiow-yen (盧秀燕) of the Chinese Nationalist Party (KMT).
"This is typical of Lu violating election regulations, and it is underhanded to apply political pressure to bolster attendance at her event. It is contrary to her claim of running a clean campaign, while she and her camp engage in illegitimate ploys to deny our campaigning activities," Tsai said on Wednesday.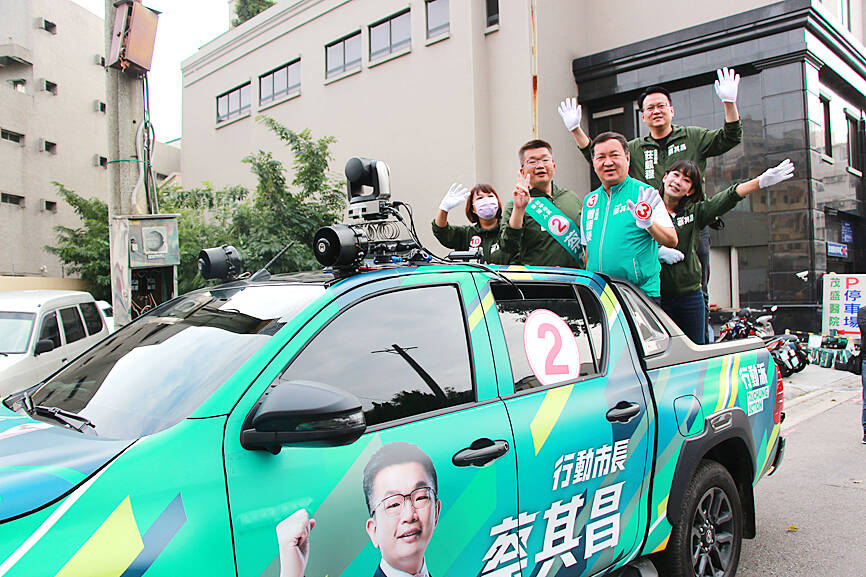 Democratic Progressive Party Taichung mayoral candidate Tsai Chi-chang, second left, campaigns in the city with staff yesterday.
Photo: CNA
"My campaign team has encountered many obstacles from the city government. Several prominent figures who set up support groups were harassed to not back me," Tsai said, adding that Lu's officials monitored companies he had contracted to work on his campaign.
The borough and neighborhood wardens told Tsai's campaign that they objected to the order, and that local residents should not be pressured to attend political rallies or endorse candidates, Tsai said.
The city government said in a statement that the wardens seem to have misunderstood communication from officials, and there was no such administrative order.
"The Taichung City Government always has maintained neutrality in local election campaigns. We did not issue an order to require wardens to bring residents to the election rally on Friday night. We ask those persons not to disseminate such erroneous information, as doing so breaches election statues," the statement said.
Meanwhile, Tsai and his staff addressed Taichung's air pollution by posting photographs of the city enveloped in smog, which they said were taken over the weekend and on other recent days.
Lu has reneged on her election promise from four years ago to improve the air quality, Tsai said, adding that Lu criticized then-Taichung mayor Lin Chia-lung (林佳龍) of the DPP over the issue.
"With Lu in charge, Taichung's air will be as clean as that in Guguan (谷關)," Lu said during her campaign at the time, referring to a mountain resort destination.
Tsai said his eyes were sore while campaigning in Taichung's streets.
Lu said in response that Taichung's air quality has improved during her term and that city data do not support the claim.
Comments will be moderated. Keep comments relevant to the article. Remarks containing abusive and obscene language, personal attacks of any kind or promotion will be removed and the user banned. Final decision will be at the discretion of the Taipei Times.