Foreign reporters watching Saturday's elections closely
Taiwan often finds itself in the international media spotlight during flare-ups in tensions with China, but as the local elections approach, foreign media are looking at how the vote would affect Taipei-Beijing ties and the 2024 presidential election, and women's participation in politics.
On Saturday, voters are to elect 11,023 public officials, including mayors, county commissioners and councilors, and decide on a referendum to amend the Constitution to lower the voting age and minimum age of candidacy to 18.
Deutsche Welle Taipei bureau chief Tsou Tzung-han (鄒宗翰) said Germans wanted to know whether President Tsai Ing-wen (蔡英文) of the Democratic Progressive Party (DPP) has aligned voters with her policies toward China.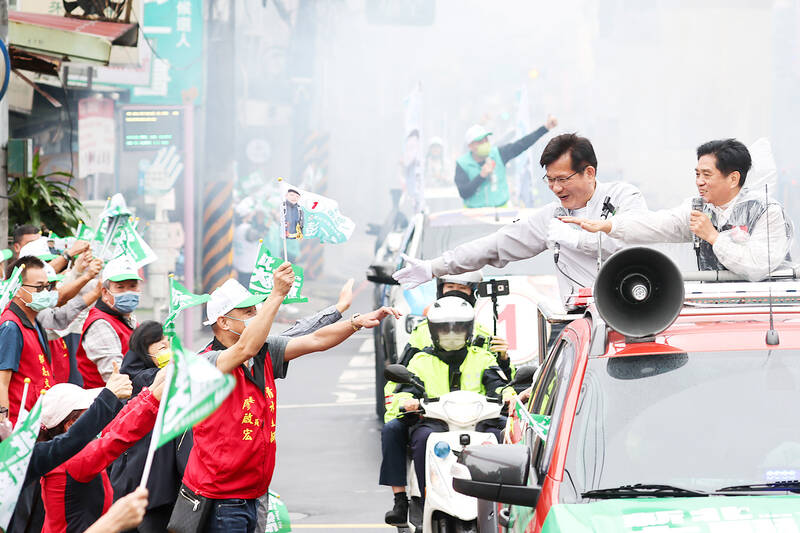 New Taipei City mayoral candidate Lin Chia-lung, second right, waves to supporters from a campaign truck while canvassing in the city yesterday.
Photo: CNA
That interest has grown since German Chancellor Olaf Scholz met with Chinese President Xi Jinping (習近平) earlier this month in Beijing, which was generally perceived as negative and has brought "cross-Taiwan Strait tensions" to the attention of Germans, Tsou said.
Kyodo News Taipei bureau chief Matsuoka Makoto said that Japanese were concerned about Taiwan's security, particularly after Xi's statement last month that China would not rule out the use of force to annex Taiwan.
He also said they were interested in Tsai's campaign strategy to frame the elections as a battle to "resist China, protect Taiwan."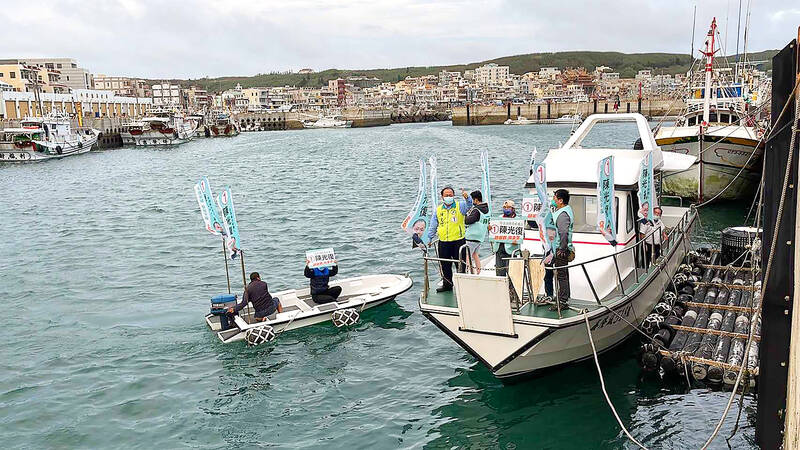 A fisher in Penghu County yesterday displays campaign flags on their boat in support of Democratic Progressive Party Penghu County commissioner candidate Chen Kuang-fu.
Photo: CNA
Marie Yang, correspondent for The Filipino Channel, said she was interested in how the conflict between China and Taiwan would affect the elections and whether voters favored the Chinese Nationalist Party's (KMT) approach to China or that of the DPP.
Some reporters were focused on how the elections could shape the playing field going into the 2024 presidential and legislative elections, and whether it could serve as a launching pad for outgoing Taipei Mayor Ko Wen-je (柯文哲) of the Taiwan People's Party (TPP) to run for president.
The popularity of TPP-backed candidates in the nine-in-one elections would be a major benchmark and could open the way for a political shift in Taiwan, said Tomasz Sniedziewski, a freelance correspondent from Poland who has lived in Taiwan since 2011.
Thompson Chau, who relocated from Yangon, Myanmar, less than a year ago and covers news for a Japanese news outlet, said he was looking at the elections through a different lens.
Local issues and the individual candidates are far bigger factors at play than relations with China or the next presidential election, he said.
Plagiarism accusations against candidates have featured much more prominently in local news than China relations or attempted murder or corruption charges against individual candidates, he said.
"It could be puzzling for outside observers," Chau said. "This speaks volumes about how different Taiwan's local elections are compared to national-level elections."
The dominance of stories about academic plagiarism scandals in the campaign showed that "trustworthiness" is a primary issue of concern for voters, said Mira Luxita Sari, editor-in-chief of news site Indosuara Indonesia.
Among the 19,825 registered candidates in this year's elections, 95 are vying to head 22 cities and counties, and 24 of them are women, the most in the past 30 years, Central Election Commission data showed.
In addition, a record 32 percent of the candidates running for city or county councilor are women, it said.
Tsou said the high percentage of female candidates running for office has been an interesting angle for foreign media, especially as it starkly contrasts with the all-male Central Politburo of the Chinese Communist Party.
One aspect of the elections that has caught some reporters' eyes is the lack of an absentee voting system in Taiwan, which means voters must cast their ballots in person at designated polling stations where their households are registered.
For example, a student whose household is registered in Kaohsiung but is attending university in Taipei or a businessperson who works overseas must travel home to vote.
European Pressphoto Agency photojournalist Ritchie Tongo said the elections are generally "peaceful" compared with the Philippines, his home country, and some Southeast Asian countries that experience killings and shootings in what are called "bloody elections."
As a journalist who left Myanmar less than a year ago, Chau said that "it is exhilarating to witness democracy in action across Taiwan," where people are probably used to the rallies, loudspeakers, campaign souvenirs and speeches.
"It bears noting that many people in the region are still fighting very hard, or even losing their own lives, to oppose authoritarian rule in this day and age," Chau added.
Comments will be moderated. Keep comments relevant to the article. Remarks containing abusive and obscene language, personal attacks of any kind or promotion will be removed and the user banned. Final decision will be at the discretion of the Taipei Times.