CECC allays worries over people refusing diagnosis
'SCIENTIFICALLY ILLITERATE': Victor Wang questioned the motives of people selectively picking data to mislead the public about the nation's disease prevention efforts
The Central Epidemic Command Center (CECC) yesterday said that it has not detected signs of people avoiding COVID-19 diagnosis for fear of being isolated and prevented from voting on Saturday.
The center yesterday reported 17,841 new local cases, 51 imported cases and 31 deaths. The local caseload was 21 percent lower than that of Wednesday last week.
Deputy Minister of Health and Welfare Victor Wang (王必勝), who heads the CECC, said that there has been rising concern that some people might hide their condition to avoid being placed under isolation and not being able to vote on Saturday.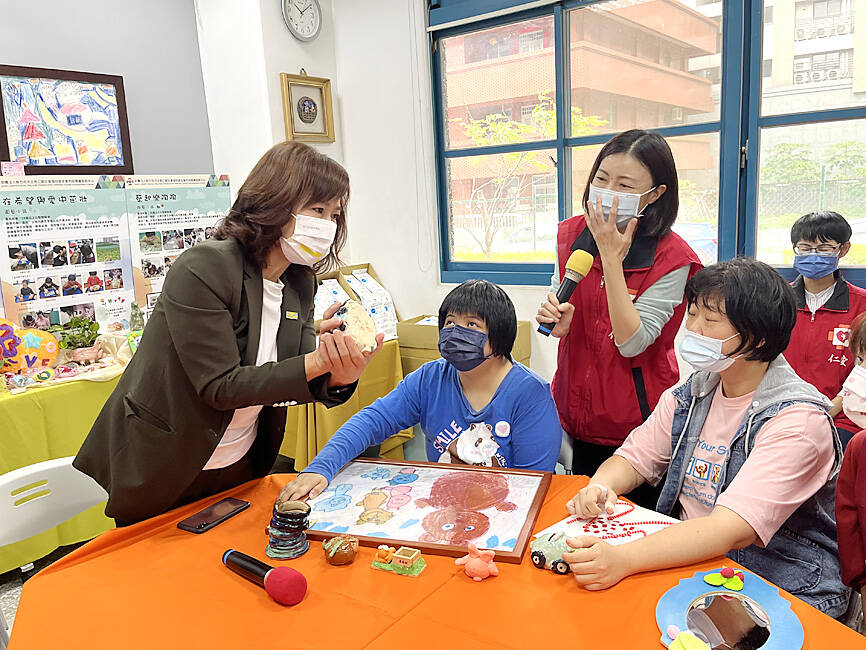 Democratic Progressive Party Hsinchu mayoral candidate Shen Hui-hung, left, visits a residential care facility on Oct. 20.
Photo: Hung Mei-hsiu, Taipei Times
However, statistics do not bear this out, Wang said at the center's regular news conference.
The weekly caseload was about 128,000 last week, and in line with the downward trend, Wang said the CECC projected that there would be about 105,000 to 110,000 new local cases this week, or an average of 15,000 to 16,000 cases per day.
"About 18,000 new local cases were reported yesterday and about 17,000 cases today, so the trend appears to be normal, with no significant drop in case numbers," he said. "We do not see signs of cases not being reported because of the upcoming elections."
Wang was asked about a newspaper report that the nation's average COVID-19 case fatality rate in the past two weeks of 2.43 per million was the third highest in the world, and that the average new cases in the past seven days was the ninth highest.
Wang said the common practice is to observe the long-term case fatality rate of a country, rather than picking a short period when the country is at a peak period of a local outbreak, when it would often be higher than other countries.
CDC Deputy Director-General Chuang Jen-hsiang (莊人祥), the CECC spokesman, said that the peaks of caseloads this year were 7,714 cases per million people on March 19 in South Korea, 1,791 cases per million people on Aug. 23 in Japan and 3,451 cases per million people on May 25 in Taiwan.
Taiwan's local outbreaks have occurred later than most countries, and it has only experienced its second large-scale local outbreak this year, while most other countries have already experienced several waves, Wang said.
Making a judgement based on the fatality rates and caseloads within a short period is a "scientifically illiterate" method, as rankings could fluctuate drastically using short periods as the basis for comparison, he said.
Showing a chart of accumulated case fatality rates in Taiwan and members of the Organisation for Economic Co-operation and Development from the start of the pandemic until Tuesday, Wang said that Taiwan's accumulated case fatality rate was 0.17 per million, the sixth lowest in the world, or 592.7 deaths per million people, which was the fifth lowest.
The daily number of deaths is a lagging indicator, trailing the number of new cases by two to four weeks, Wang said.
As Taiwan earlier experienced a plateau of cases for about five weeks, the daily number of deaths has, in line with the trend, recently declined, he said.
Some people selectively pick data to mislead the public about the nation's disease prevention performance, Wang said, asking why they are trying to undermine the results, which are a product of the combined efforts of all Taiwanese.
Comments will be moderated. Keep comments relevant to the article. Remarks containing abusive and obscene language, personal attacks of any kind or promotion will be removed and the user banned. Final decision will be at the discretion of the Taipei Times.