2022 Elections: DPP targets key voting areas, KMT does the opposite
In the last few days before the local elections on Saturday, the Democratic Progressive Party (DPP) said it is focusing on 10 regions it considers highly contested areas, while the Chinese Nationalist Party (KMT) said it is stepping up campaigns across the nation.
The DPP considers Keelung, Taipei, Taoyuan, Hsinchu City, and Maoli, Yilan, Nantou, Penghu, Changhua and Yunlin counties as areas where its candidates are facing fierce competition, a party source said.
President Tsai Ing-wen (蔡英文), Vice President William Lai (賴清德) and Premier Su Tseng-chang (蘇貞昌) plan to visit those areas again this week, the source said.
Democratic Progressive Party (DPP) Taipei mayoral candidate Chen Shih-chung, center left, and DPP New Taipei City mayoral candidate Lin Chia-lung, center right, canvass for votes in Taipei yesterday.
Photo: Lo Pei-de, Taipei Times
The night before the elections, Lai is scheduled to visit Taichung, Changhua and Nantou before making his way to northern Taiwan, they said, adding that other senior party members would be in Taipei, New Taipei City and Taoyuan.
DPP Taoyuan mayoral candidate Cheng Yun-peng (鄭運鵬) began holding campaign rallies for six consecutive nights on Sunday.
In addition to a rally in the city's Pingjhen District (平鎮) yesterday where he was joined by Lai, Cheng is to attend a rally in Neili (內壢) tonight, one in Yangmei District (楊梅) tomorrow with Su, and one in Bade District (八德) on Thursday with Tsai and Taoyuan Mayor Cheng Wen-tsan (鄭文燦).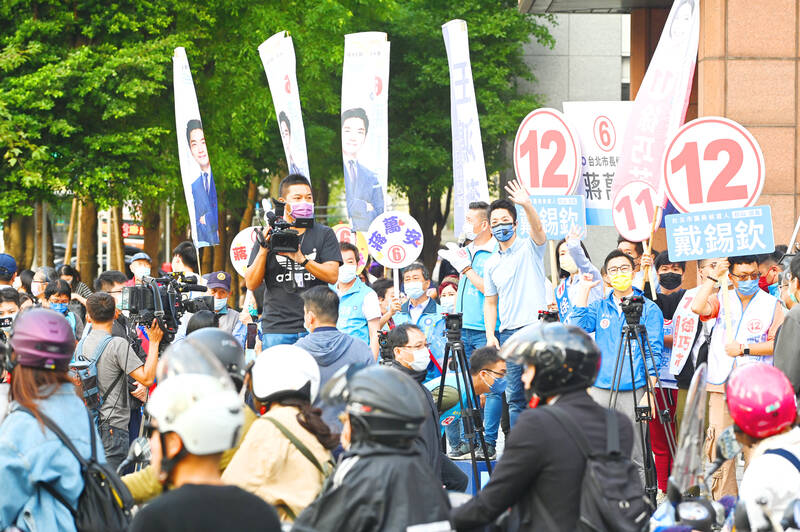 Chinese Nationalist Party (KMT) Taipei mayoral candidate Chiang Wan-an, wearing blue mask, waves at drivers at an intersection in Taipei yesterday.
Photo: Tien Yu-hua, Taipei Times
DPP Taipei mayoral candidate Chen Shih-chung's (陳時中) campaign team has been granted use of Ketagalan Boulevard in front of the Presidential Office Building and Beiping E Road in front of his campaign headquarters for Friday night.
DPP Legislator Rosalia Wu (吳思瑤), Chen's campaign manager, said the Friday night rally would be held at one of the two locations, where Chen would be joined by Tsai and Lai.
Taipei is the most important battleground in Taiwan as it "represents the vision of shared governance of 10 million people living in the Taipei metropolitan area," she said.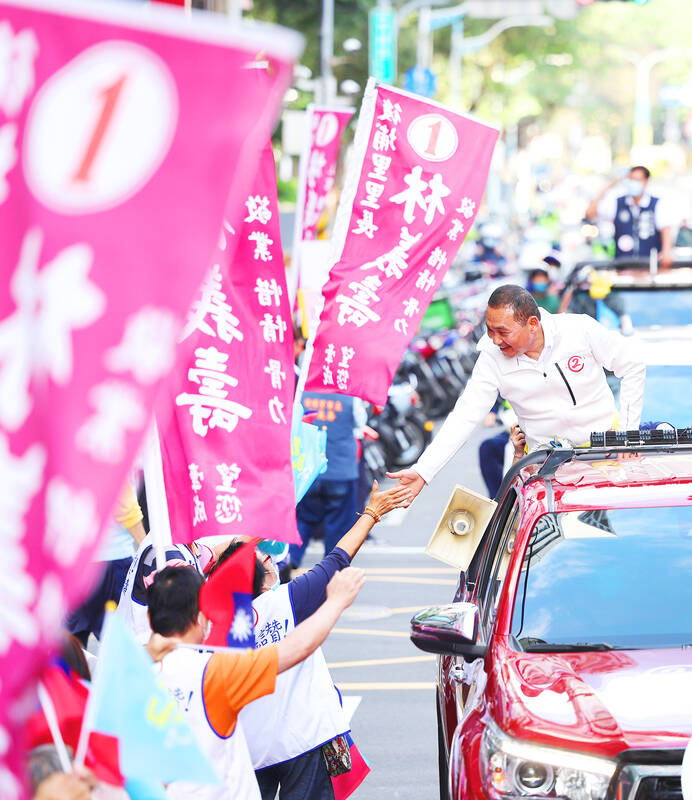 New Taipei City Mayor Hou You-yi of the Chinese Nationalist Party (KMT), right on the jeep, canvasses for votes for his re-eleciton bid in a motorcade in New Taipei City yesterday.
Photo: CNA
Meanwhile, as most of the KMT's candidates are running for re-election, it would not ignore any city or county during the final week, and would continue to canvass for votes, a KMT source said.
KMT Legislator Hung Meng-kai (洪孟楷), who doubles as the party's Cultural and Communications Committee director-general, said that the KMT would provide full assistance to all of its candidates on the eve of the election by arranging the most suitable guests to attend campaign rallies in each city and county.
To quickly disperse false accusations that aim to smear its candidates in the last week before the election, the party would also keep in close touch with its candidates, he said, adding that the KMT would "be ready any time to strike back."
The KMT does not have a big enough budget to monitor opinions online, but would be informed by party members or supporters about any accusation that gains too much attention, he added.
Additional reporting by Lin Liang-sheng
Comments will be moderated. Keep comments relevant to the article. Remarks containing abusive and obscene language, personal attacks of any kind or promotion will be removed and the user banned. Final decision will be at the discretion of the Taipei Times.