Campaign masks banned on day of election: CEC
The Central Election Commission (CEC) has warned voters against wearing masks bearing campaign messages while heading to the polls in Saturday's local elections, saying that those who do so could be fined at least NT$500,000 (US$16,041).
Wearing such masks would be considered a contravention of the rules banning all kinds of campaign activities and electioneering on election day, commission Chairman Lee Chin-yung (李進勇) said in response to media queries last week.
A commission official later said that any suspected contravention of the rules would be referred to the CEC for investigation and those found guilty could face a fine of NT$500,000 to NT$5 million.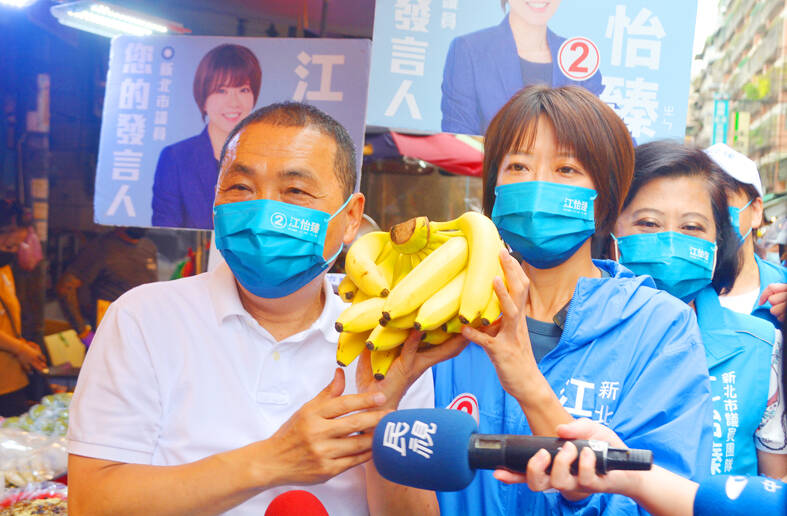 New Taipei City Mayor Hou You-yi, left, wears a mask bearing the name of Chinese Nationalist Party (KMT) New Taipei City councilor candidate Chiang Yi-chen, center, while canvassing for votes at a local market in the city's Tucheng District yesterday.
Photo: CNA
Voters are to choose 11,000 local officials and councilors at all levels of local government, and cast their ballots for a referendum on lowering the legal voting age and the minimum age of candidacy to 18.
In related news, the commission on Friday said that a legislative by-election would be held on Jan. 8 next year to fill the seat left vacant by Chiang Wan-an (蔣萬安), who resigned as legislator on Nov. 10 to focus on his Taipei mayoral election campaign.
The registration period for the by-election is to run from Monday next week to Dec. 2, the commission said.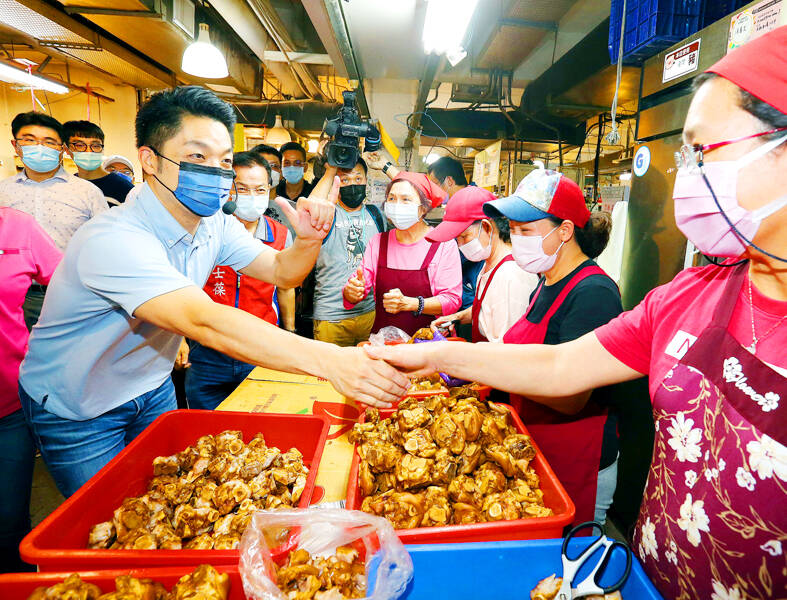 Chinese Nationalist Party (KMT) Taipei mayoral candidate Chiang Wan-an, left, shakes hands with a vendor at a local market in Taipei yesterday.
Photo: CNA
Chiang of the Chinese Nationalist Party (KMT) formerly represented the Zhongshan (中山)-Northern Songshan (北松山) electoral district in Taipei and is the KMT's candidate for Taipei mayor.
According to Article 73-1 of the Civil Servants Election and Recall Act (公職人員選舉罷免法), a legislative by-election must be held within three months of a legislator's resignation unless there is less than a year remaining in their legislative term.
Chiang's legislative term is to end on Jan. 31, 2024.
Comments will be moderated. Keep comments relevant to the article. Remarks containing abusive and obscene language, personal attacks of any kind or promotion will be removed and the user banned. Final decision will be at the discretion of the Taipei Times.