Tainan mayoral debate focuses on public security
GUNS AND KNIVES: The DPP incumbent promised to boost the budget and pay for police and firefighters, as his KMT rival accused him of making the city less safe
The main candidates in the race for Tainan mayor on Wednesday debated public security in the wake of high-profile gun and knife crimes that have roiled the southern city in the past few months.
In a televised opinion forum, Chinese Nationalist Party (KMT) nominee Hsieh Lung-chieh (謝龍介) used his opening remarks to hammer Tainan Mayor Huang Wei-che (黃偉哲) of the Democratic Progressive Party (DPP) for his supposedly lax attitude on crime.
As evidence, he cited Huang's failure to take more decisive action after an incident last week in which a suspect, still at large, shot 88 bullets from a submachine gun into the office of a city councilor and a private business in the city's Syuejia District (學甲).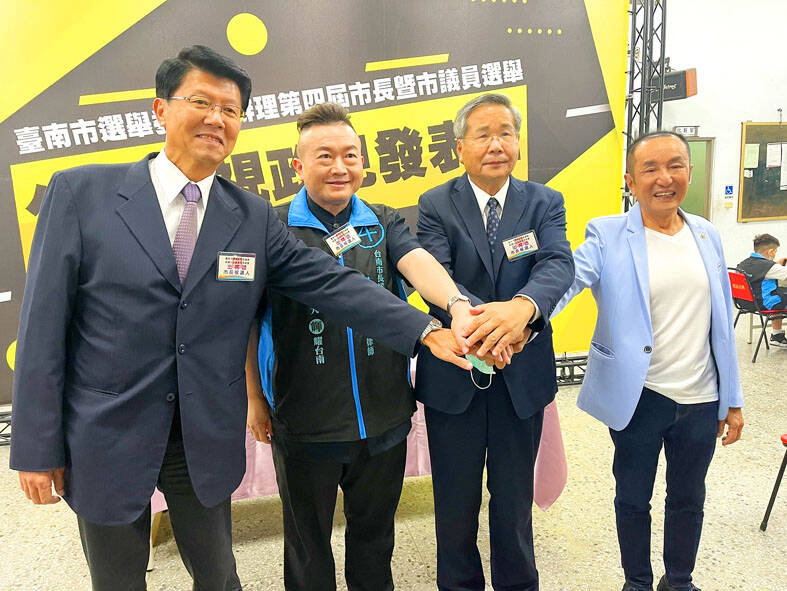 From left, Tainan mayoral candidates Hsieh Lung-chieh of the Chinese Nationalist Party (KMT), and independents Wu Ping-hui, Hsu Chung-hsin and Lin Yi-feng join hands at a televised policy presentation in the city on Wednesday.
Photo: CNA
Hsieh said that if elected mayor, he would make Tainan safer by hiring 200 new police officers every year, or a total of 800 officers over a four-year term.
"I will also let the police do their job .. so we do not have the people with guns getting killed by people with knives," he said, referring to the stabbing deaths of two Tainan police officers by a fugitive in August, which some blamed on overly strict guidelines governing when police can fire their weapons.
Huang said Hsieh was "using an isolated public security incident to disparage Tainan" for his personal political gain, adding that "politics and law enforcement are separate fields, and cannot interfere in each other's work."
Denying that his policies have made the city less safe, Huang said that if elected for a second term, he would support increasing the equipment budget and employee pay for police and fire departments.
Huang also highlighted his proactive response to the COVID-19 pandemic, which he said was part of the reason Tainan has the lowest number of COVID-19 cases and moderate to severe infections among the six special municipalities.
On the economic side, Tainan has attracted more than NT$1.8 trillion (US$ billion) in investment over the past four years, and has the lowest unemployment rate among the six special municipalities, he said.
Hsieh, a longtime city council member, pledged to fulfill several of his major campaign promises, such as providing free healthcare to seniors and free school lunches to junior-high and elementary-school students, by reallocating funds in the city's budget.
"I will enact every single one of my policies in the first year of my term, or resign from office and apologize to the public," he vowed.
The three other candidates in the race — independents Wu Ping-hui (吳炳輝), Lin I-feng (林義豐) and Hsu Chung-hsin (許忠信) — spoke on a range of issues including public security, the DPP's long control of the city government and the need for someone with a more "international perspective" to govern the city.
Comments will be moderated. Keep comments relevant to the article. Remarks containing abusive and obscene language, personal attacks of any kind or promotion will be removed and the user banned. Final decision will be at the discretion of the Taipei Times.