Taichung candidates tout policies on TV
DIVIDED ON COAL: Coal-fired turbines should be kept for emergencies such as a Chinese blockade, the DPP candidate said, while the KMT candidate said they should be scrapped
The main candidates running for Taichung mayor on Tuesday outlined their policy proposals for dealing with air pollution, a long-standing issue that has influenced voters' decisions in the city in past elections.
At a televised forum, Taichung Mayor Lu Shiow-yen (盧秀燕) of the Chinese Nationalist Party (KMT) said she has taken steps to curb air pollution during her four years in office that have helped reduce the number of "poor air days" by 75 percent.
Lu said she helped overturn a central government plan to keep coal-fired generators at the Taichung Power Plant in reserve after the introduction of new gas-fired turbines.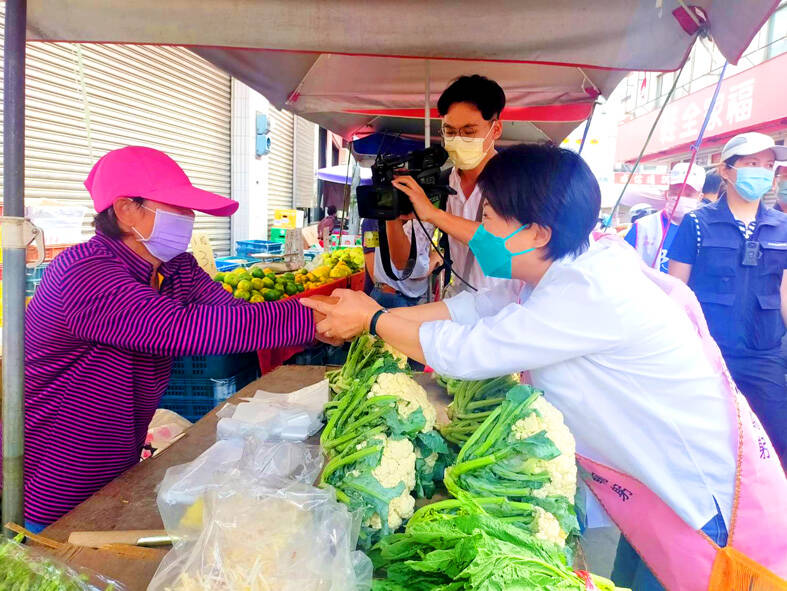 Taichung Mayor Lu Shiow-yen, front right, yesterday shakes hands with a vendor at a market in the city while campaigning for re-election.
Photo: CNA
She said her administration and the central government agreed to scrap two coal-fired units in 2027 after two new gas-fired units become operational.
One of the world's largest coal-fired plants, the Taichung Power Plant has 10 coal-fired generators. It is one of Taiwan's main polluters and carbon emitters.
State-run utility Taiwan Power Co, which runs the power plant, would add two natural gas-powered units in 2025 in line with the government's policy of decreasing coal use to improve air quality.
Lu criticized the Democratic Progressive Party's candidate for Taichung mayor, Deputy Legislative Speaker Tsai Chi-chang (蔡其昌), for his proposal to keep coal-fired generators as backups instead of scrapping them.
In his presentation, Tsai said he last year proposed legislation that would replace coal-fired units with gas-fired generators to improve air quality in Taichung.
Although the bill passed, KMT lawmakers abstained from the vote over concerns that it would not lead to scrapping the coal-fired generators, but instead keep them in reserve.
Tsai defended that policy, saying it is in line with national security considerations.
If Taiwan were blockaded or shipping were restricted, the units could give Taiwan more capacity to generate power, Tsai said.
The DPP candidate said Lu had done a bad job protecting the health of Taichung residents, citing a Taiwan Environmental Righteousness Association report that said the city's air quality was for the first time worse than that of Pingtung County.
In addition to air quality, the two candidates touched on several other issues, including public order, social welfare and economic development.
The only other candidate for Taichung mayor at the event, independent Chen Mei-fei (陳美妃), said she is seeking to take "real action" to make Taichung better instead of spouting empty rhetoric.
Comments will be moderated. Keep comments relevant to the article. Remarks containing abusive and obscene language, personal attacks of any kind or promotion will be removed and the user banned. Final decision will be at the discretion of the Taipei Times.