CECC posts fewest deaths in 6 months
RUMOR FALSE: The CECC said it would not be handing out lists of confirmed cases to stop people from voting, but COVID-19 cases should not go out as they could be fined
The Central Epidemic Command Center (CECC) yesterday reported 24,935 new local COVID-19 cases, 33 moderate to severe cases and 15 deaths — the lowest daily number of deaths in 181 days.
Centers for Disease Control (CDC) Deputy Director-General Chuang Jen-hsiang (莊人祥), the CECC's spokesman, said that the local caseload was 27.2 percent lower than on Tuesday last week.
CDC Deputy Director-General Philip Lo (羅一鈞), deputy chief of the CECC's medical response division, said that 20 moderate cases and 13 severe cases were confirmed yesterday — the lowest figures since May 3.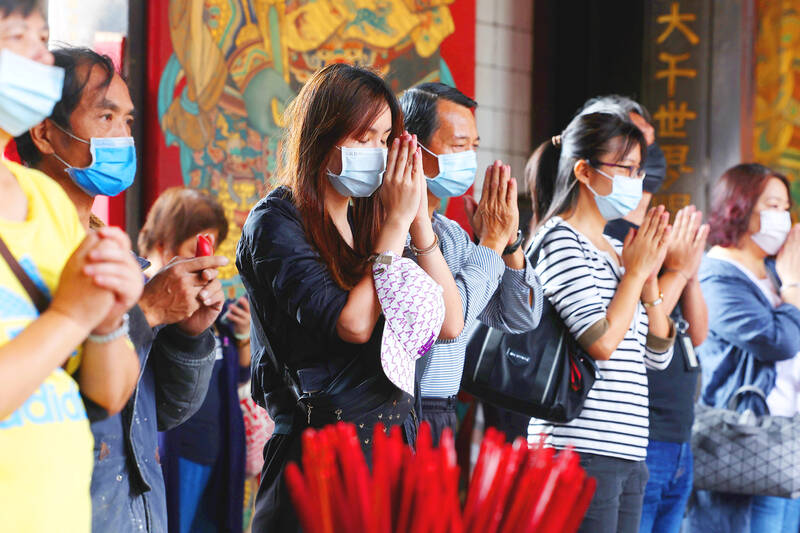 People pray at Longshan Temple in Taipei on Monday. The Central Epidemic Command Center yesterday said it would discuss lifting the outdoor mask mandate this month.
Photo: CNA
Among the deceased, 14 had underlying health conditions and 11 had not taken a COVID-19 vaccine booster shot, CECC data showed.
Two of the deceased were in their 40s, including an unvaccinated woman who had bone marrow disease and died of pneumonia and a blood infection, Lo said.
The other was a man with cirrhosis who had received only one dose of a COVID-19 vaccine and died of pneumonia and septic shock three days after he was diagnosed with the virus, he said.
As the vacancy rates of beds at hospitals designated for COVID-19 have increased in northern Taiwan, the CECC would allow designated hospitals with more than 500 beds to reduce to 6 percent the number of beds reserved for coronavirus patients, he said.
Asked if people can receive treatment and also ask not to be reported as a confirmed case, Lo said that doctors must report a COVID-19 case within 24 hours of diagnosis, so if a person sees a doctor and receives oral anti-viral drugs, the doctor must report them as a case.
Regarding rumors that some local governments could turn over a list naming confirmed COVID-19 cases to polling stations to prevent them from voting, Chuang said the CECC would not provide lists of confirmed cases to the Central Election Commission, and the commission would inform local governments to ensure that voting rules are enforced.
However, he said that people with COVID-19 who are under home isolation on voting day should remain at home, as they could be fined NT$200,000 to NT$1 million (US$6,238 to US$31,190) for leaving isolation.
Separately, amid criticism of the Food and Drug Administration's efficacy review of the Medigen COVID-19 vaccine, Deputy Minister of Health and Welfare Victor Wang (王必勝), who heads the center, on Monday night on Facebook posted the affiliations of review committee members.
The review members were 13 professors from three universities (including seven from National Taiwan University), two health research facilities and two hospitals; an associated professor from a hospital; and a physician who is also a lawyer.
Chung said he revealed their affiliations because some people have questioned whether the agency had invited specialists to the review meeting.
However, he said he would not reveal the names of the committee members to protect them from harassment.
Comments will be moderated. Keep comments relevant to the article. Remarks containing abusive and obscene language, personal attacks of any kind or promotion will be removed and the user banned. Final decision will be at the discretion of the Taipei Times.