Child infected with new subvariant
NEW MUTATION: The BQ.1 subvariant is spreading rapidly in the US and Europe, and has better immune escape than other subvariants, raising risks of reinfection, the CECC said
The Central Epidemic Command Center (CECC) yesterday reported the first local COVID-19 case infected with the Omicron BQ.1 subvariant of SARS-CoV-2 — a four-year-old girl from northern Taiwan.
The girl has received a dose of a COVID-19 vaccine, said Centers for Disease Control (CDC) Deputy Director-General Philip Lo (羅一鈞), deputy head of the CECC's medical response division.
She developed a fever, headache, nausea and vomiting on Oct. 24, and tested positive in a polymerase chain reaction test at an emergency room, he said.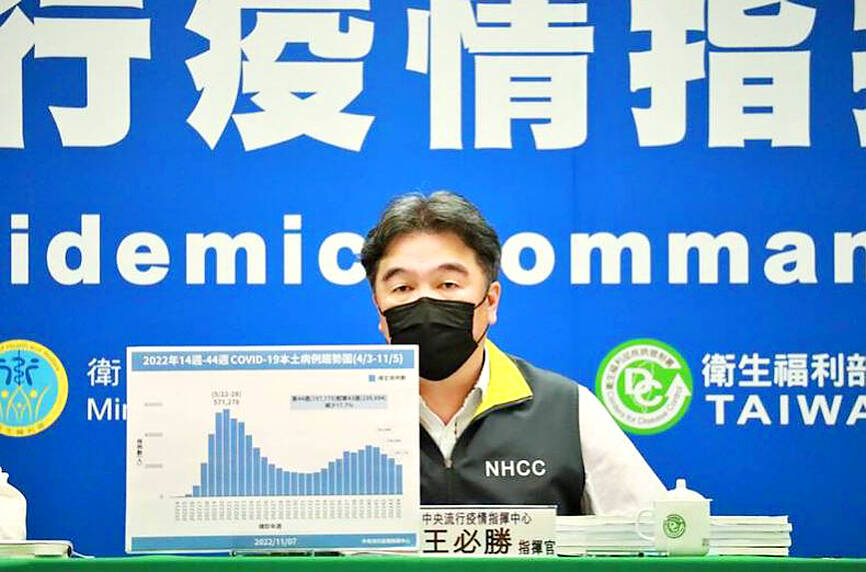 Deputy Minister of Health and Welfare Victor Wang, who heads the Central Epidemic Command Center, speaks at the center's news conference in Taipei yesterday.
Photo courtesy of the Central Epidemic Command Center
She was hospitalized for three days, Lo said.
As she had not recently traveled abroad, she must have contracted the disease locally, he added.
BQ.1 is a mutation of Omicron's BA.5 subvariant that has so far been detected in 65 countries, Lo said, citing WHO data released on Oct. 26.
It has a prevalence rate of 9 percent, he said, citing WHO data from Wednesday.
Lo said BQ.1 is spreading rapidly in the US and Europe, and accounts for more than 35 percent of the COVID-19 cases in the US.
The additional mutations of the BQ.1 subvariant have conferred an immune escape advantage over other circulating Omicron subvariants, and therefore might pose a higher reinfection risk, he said, citing a statement released on Oct. 27 by the WHO's Technical Advisory Group on SARS-CoV-2 Virus Evolution.
Current vaccines, including bivalent ones, might offer reduced protection against BQ.1 infection, but researchers do not expect any changes to protection against severe disease, Lo said.
CDC Director-General Chou Jih-haw (周志浩), head of the CECC's disease surveillance division, reported 16,538 new local cases, 23 imported cases and 34 deaths.
The local caseload declined 26.8 percent from Monday last week to the lowest since Aug. 15, he said, adding that the number of new cases is steadily decreasing.
Deputy Minister of Health and Welfare Victor Wang (王必勝), who heads the CECC, said that 197,175 new local cases were reported last week, which is 17.7 percent lower than the week before, suggesting that the decline in new cases is accelerating.
Lo said that of the 97 samples collected from local cases for genome sequencing last week, 94 were infected with the Omicron BA.5 subvariant, while two had the BA.2 subvariant and one — the four year-old — had BQ.1.
Of the 17 samples collected from imported cases, 15 had the BA.5 subvariant, while one had the XBB and another had the BA.2.75 variant, he said.
Comments will be moderated. Keep comments relevant to the article. Remarks containing abusive and obscene language, personal attacks of any kind or promotion will be removed and the user banned. Final decision will be at the discretion of the Taipei Times.