Chiayi mayoral vote moved to Dec. 18
The Chiayi mayoral election is to be held on Dec. 18, the Central Election Commission (CEC) said on Thursday, one day after the electoral process was stopped following the death of Huang Shao-tsung (黃紹聰), an independent candidate running in the election originally scheduled for Nov. 26.
The process was stopped based on Article 30 of the Civil Servants Election and Recall Act (公職人員選舉罷免法), dubbed the "anti-assassination clause," which requires the commission to terminate the process if a candidate dies up to one day ahead of the scheduled vote.
The decision was made jointly with Chiayi City Election Committee representatives, CEC Director-General Huang Chun-ming (黃俊銘) said.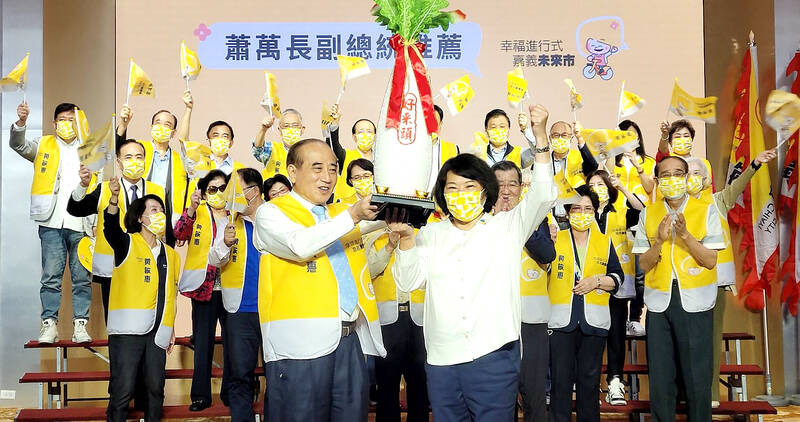 Former legislative speaker Wang Jin-pyng, front left, present an auspicious sprouting Chinese radish to Chiayi Mayor Huang Min-hui, front right, at a campaign event in Chiayi City on Oct 26.
Photo: Ting Wei-chieh, Taipei Times
Registration for candidates would be open from tomorrow until Saturday, and their numbers on the ballot would be drawn on Nov. 29, Huang Chun-ming said.
Huang Shao-tsung was found unconscious on the floor in a bathroom in his home early on Wednesday. He was rushed to hospital, where he was pronounced dead, with the cause of death being heart attack.
CEC Deputy Chairman Chen Chao-chien (陳朝建) said the rescheduling would not affect the inauguration of the winner in the mayoral election on Dec. 25.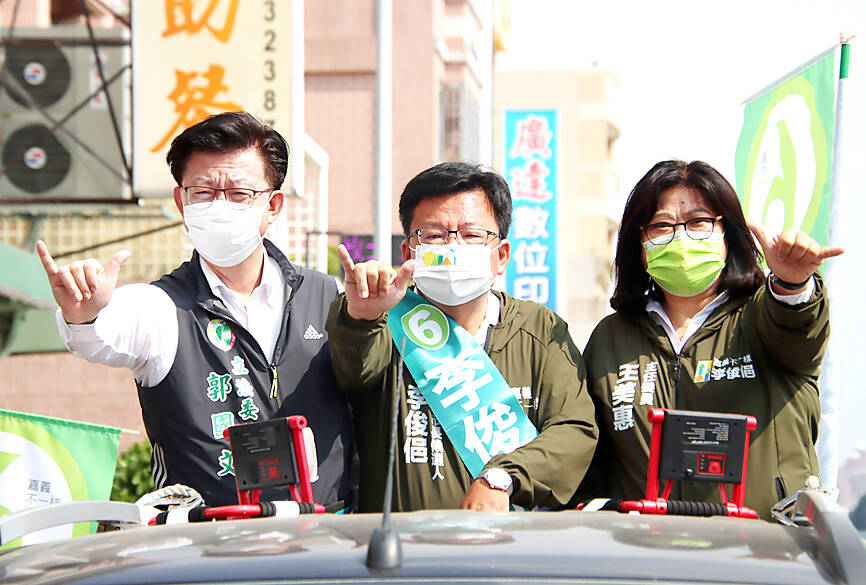 Democratic Progressive Party Chiayi mayoral candidate Lee Chun-yi, center, waves durign a campaign event in Chiayi City on Oct 29.
Photo: Lin Yi-chang, Taipei Times
Chiayi Mayor Huang Min-hui (黃敏惠) of the Chinese Nationalist Party (KMT), who is seeking re-election, and her Democratic Progressive Party (DPP) challenger, Lee Chun-yi (李俊俋), have said that delaying the vote would put a strain on electoral resources.
Calling the decision "regrettable," Huang Min-hui said that holding the mayoral election in Chiayi on a different date than nationwide local elections would require about 3,500 additional election workers, which would be hard to find.
Asked whether she is worried about becoming the DPP's sole focus after Nov. 26, Huang Min-hui said that many of her supporters were concerned, but she is ready to deal with the situation.
Lee said that he would campaign "until the end" — for DPP Chiayi city councilor candidates in the Nov. 26 election, and ahead of the mayoral vote next month.
Comments will be moderated. Keep comments relevant to the article. Remarks containing abusive and obscene language, personal attacks of any kind or promotion will be removed and the user banned. Final decision will be at the discretion of the Taipei Times.