Poll spotlights foreign students' issues
FACING BARRIERS: The students need to feel 'understood and respected' before they can integrate, the migrant services director of the Garden of Hope Foundation said
The number of foreign students in Taiwan is increasing, but half of those who are enrolled in degree programs do not want to stay in Taiwan after they graduate, the Garden of Hope Foundation said as it presented the results of a survey of 100 foreign students.
Those who do not want to stay said they are struggling with the language barrier, that they are not familiar with Taiwan's workplace culture and that Taiwanese firms often do not know the requirements for hiring foreigners, the foundation said.
The government should relax the requirements to ensure that talented foreigners can start their careers in Taiwan and the nation can benefit from them, it added.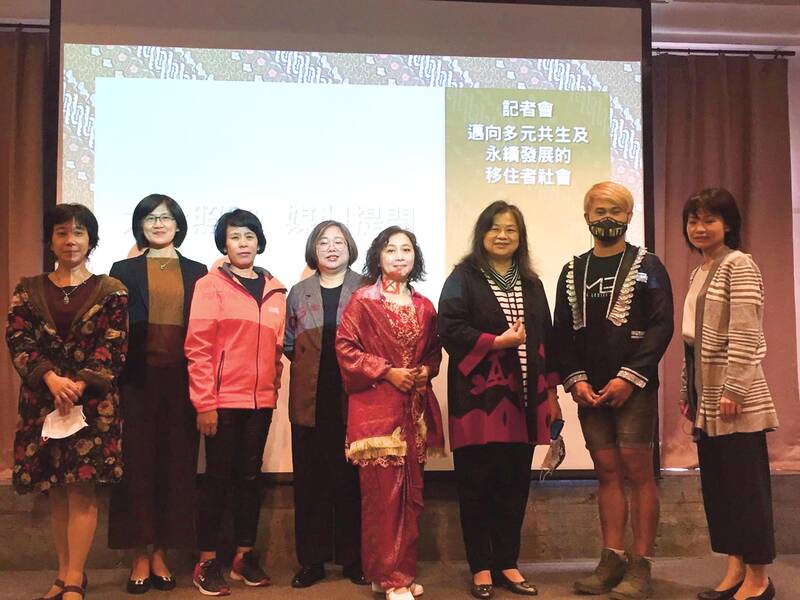 Members of the Garden of Hope Foundation hold a news conference in Taipei yesterday.
Photo: CNA
Enrollment data showed that Taiwanese universities have become more attractive to foreign applicants, with the number of foreign students rising from 51,741 in 2016 to 65,383 last year, said Kaili Lee (李凱莉), director of the foundation's migrant services division.
The increase over the past five years came despite a drop in enrollment numbers in 2020 due to border restrictions amid the COVID-19 pandemic, Lee said.
The government's "open door" policy, which includes providing scholarships, and schools' increased international recruitment efforts are behind the trend, Lee said.
Some foreign students might also chose Taiwan because they think that the nation's aging population might mean that labor force shortages lead to more attractive job market conditions for skilled workers, Lee said.
Last year, the top four places of origin of foreigners starting post-secondary degree programs in Taiwan were Vietnam, Indonesia, Malaysia and Hong Kong, she said.
Lee said that 50 percent of respondents in the survey said they want to seek employment in Taiwan after they graduate, while 50 said they do not want to stay.
Those who do not want to stay said they are afraid of facing problems in a Chinese-speaking professional environment, Lee said.
Some respondents also cited problems integrating into Taiwanese society, a "difficult" workplace culture, low wages and employment restrictions for foreigners, she said.
The foundation yesterday held a workshop for students from Southeast Asia themed "A Safe Journey toward Vibrant Integration: Thriving Future." The event at Huashan 1914 Creative Park also featured academics.
National Chengchi University International College of Innovation director Tu Wen-ling (杜文苓) said that two-thirds of students in the college's international degree programs are foreigners.
"In our college, Taiwanese and foreigners learn together. This helps our foreign students get to know Taiwan," Tu said, calling the college "a center for multicultural interaction."
Foundation CEO Wang Yue-hao (王玥好) lauded the government's policies to attract foreign students, but said that the students additionally need to feel "understood and respected by Taiwanese society" before they can integrate.
Wang said there are two main groups of foreign students: those who can converse in Chinese and those who mainly converse in English with their fellow students and in their daily lives.
Some students of the latter group feel stressed when conversing, Wang said.
Foreign students also reported difficulty with coursework and financial problems, Wang said.
Lee said that 60 percent of respondents said they ask fellow students for help when encountering problems.
Some also seek help from compatriots whom they knew before moving to Taiwan, she said.
Many respondents say their schools should offer more courses designed for international students, including courses taught in English, Lee said.
Many of them would also like to have more help from their schools with internships, including contacts at local companies, she said.
"That would pave their way to employment in Taiwan," Lee said.
Those who are willing to stay after they graduate mostly say that wages in Taiwan are higher than in their home countries, Lee said.
The results also indicate that students who are fluent in Chinese see more job opportunities for themselves in Taiwan, while most of those who seek an English-speaking work environment see employment in Taiwan as a stepping stone to a job elsewhere, she said.
Many of those who do not want to stay acknowledge that the nation has good social welfare programs, good work conditions and friendly people, "but there is limited understanding about foreigners," which diminishes their chances in the job market, Lee said.
The foundation has increasingly received reports from foreign students who said they were underpaid in their part-time job, as well as reports about sexual harassment, Lee said.
"Due to language and cultural barriers, foreign students are often reluctant to report such incidents, and those who report them often do so too late for the authorities to address the issues," she said.
Comments will be moderated. Keep comments relevant to the article. Remarks containing abusive and obscene language, personal attacks of any kind or promotion will be removed and the user banned. Final decision will be at the discretion of the Taipei Times.