Suspects held, 58 kidnapping victims freed
TORTURE, DEATH: Victims were allegedly beaten with clubs, drugged and handcuffed after answering ads for work that led to forced withdrawals from their bank accounts
The head of a criminal ring that allegedly tortured 58 people and killed three others has been arrested and the victims freed, Taoyuan authorities said yesterday.
Police arrested Chen Wei-hua (陳樺韋), 37, in Taoyuan's Gueishan District (龜山) at about 11pm on Friday, and seized NT$520,000 (US$16,157) in cash at his residence, they said.
Forensic investigators determined that Chen was running a human trafficking ring that engaged in kidnapping, torture and extortion, authorities said.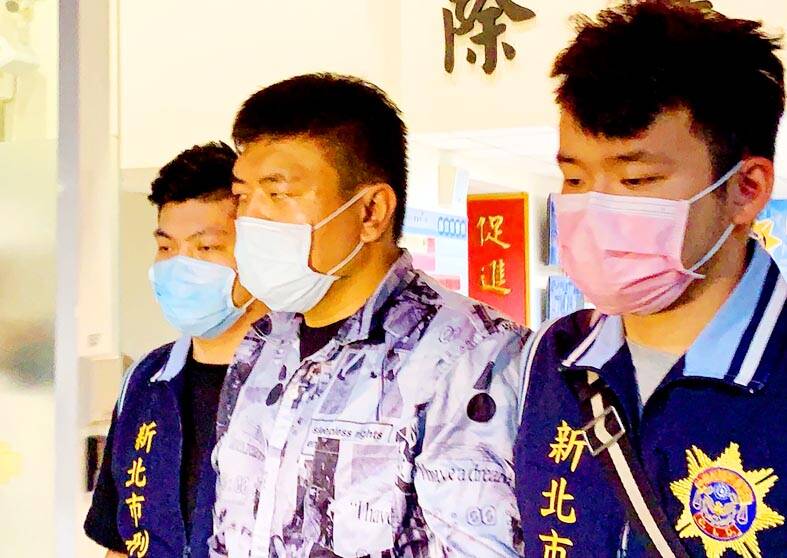 A suspect in a fraud and kidnapping case, center, is escorted by police yesterday in New Taipei City.
Photo: CNA
Sixteen others believed to be a part of the organization were also arrested, they said.
Premier Su Tseng-chang (蘇貞昌) said that the arrests followed swift efforts by police.
"These arrests required diligence, and the government praises the police endeavors in this case. We must bring to justice every criminal engaged in this crime," he said, adding that he thanked the officers for rescuing the 58 people being held against their will.
He also said that jobseekers should be wary to not fall into traps, which are indicated by job advertisements that offer excessively high pay for easy working conditions.
Taiwan High Prosecutors' Office Chief Prosecutor Chang Tou-hui (張斗輝) yesterday said that forensic experts are to investigate the case.
They are to examine the flow of the organization's funds and look for other members and accomplices, Chang said.
The Association for Victims Support is to provide legal assistance, counseling and other assistance to the rescued people and their families.
Raids were first conducted in New Taipei City's Tamsui District (淡水) on Tuesday, with 26 people released and eight suspects arrested. Another eight suspects were arrested in Taoyuan's Jhongli District (中壢), where 32 more people were released. It was there that three others were found dead.
New Taipei City Police Department Criminal Investigation Corps head Hsiao Juei-hao (蕭瑞豪) coordinated the raids.
Two bodies recovered in Taoyuan were alleged victims of torture, while a third victim was found on a mountain road in Nantou County, Hsiao said.
Police at the Taoyuan site seized handcuffs, plastic wrist binders, electroshock weapons, metal rods and other devices believed to have been used to torture the victims, all of whom had bruises and injuries, with some indicating they had been burned with cigarettes, Hsiao said.
The rescued captives testified to being handcuffed to prevent their escape, and being beaten with clubs and metal rods for not cooperating, Hsiao said.
The victims also said when taken outside to withdraw money from their bank accounts, they had cloth stuffed into their mouths to prevent shouts, and were confined to inside rooms with 24-hour monitoring after being drugged.
Comments will be moderated. Keep comments relevant to the article. Remarks containing abusive and obscene language, personal attacks of any kind or promotion will be removed and the user banned. Final decision will be at the discretion of the Taipei Times.