Majority oppose 'one China,' '1992 consensus'
More than 80 percent of Taiwanese oppose the "one China" principle and the so-called "1992 consensus," a survey released yesterday by the Mainland Affairs Council (MAC) showed.
The council last week commissioned a poll to gauge public sentiment regarding comments made on Taiwan during the Chinese Communist Party's (CCP) 20th National Congress.
Of the 1,096 respondents, 85.6 percent were "strongly opposed" to China's refusal to renounce the use of force against Taiwan, MAC Deputy Minister Chiu Chui-cheng (邱垂正) told a regular news conference in Taipei.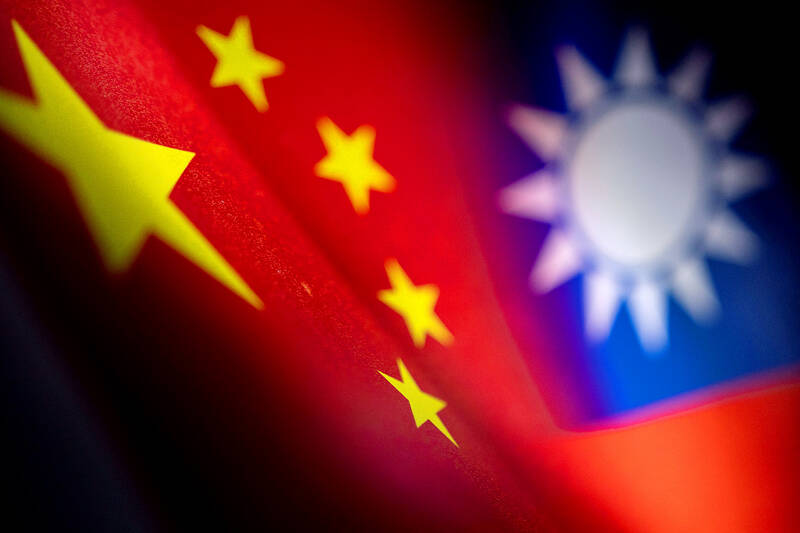 Flags of the Republic of China, right, and the People's Republic of China are pictured on April 28.
Photo: Reuters
Meanwhile, 83.9 percent did not support the CCP's "overall strategy for resolving the Taiwan issue," while 82.3 percent disapproved of its "one China" principle and the "1992 consensus."
The "1992 consensus" — a term that former MAC chairman Su Chi (蘇起) in 2006 admitted making up in 2000 — refers to a tacit understanding between the Chinese Nationalist Party (KMT) and the CCP that both sides of the Taiwan Strait acknowledge that there is "one China," with each side having its own interpretation of what "China" means.
In addition, 79.3 percent disagreed that "peaceful unification under 'one country, two systems'" is the best way to achieve cross-strait unification.
The results show that Taiwanese are resolutely opposed to political frameworks imposed by the CCP and its plan to find a conclusion to the Taiwan issue, with the public showing extreme disapproval for military intimidation, the council said.
Meanwhile, the survey showed strong popular support for the government's cross-strait policy, it said.
Nearly 90 percent said they supported improvements to self-defense, while more than 80 percent approved of President Tsai Ing-wen's (蔡英文) comments in her Double Ten National Day address that "armed confrontation is absolutely not an option for our two sides," and that working together is possible on the basis of "rationality, equality and mutual respect."
Additionally, 88.9 percent said they were willing to seek mutually acceptable ways of maintaining peace and stability on the basis of equality and mutual respect.
More than 80 percent supported adjustments to cross-strait exchanges considering cross-strait developments, as well as economic and COVID-19 considerations, while more than 70 percent supported tougher screening of Chinese traveling to Taiwan.
While 78.2 percent said that the CCP is unfriendly to the Taiwanese government, only 61.3 percent said it is unfriendly to Taiwanese.
About 86 percent supported "broadly maintaining the status quo," while a similar 85 percent said that Taiwan's future should be decided by its people.
Maintaining peace and stability across the Taiwan Strait is the responsibility of both sides, the council said, calling on Beijing to consider Taiwanese public opinion and current realities, abandon its aggressive mentality, and seek rational, respectful and pragmatic solutions.
The telephone survey, conducted from Wednesday last week to Sunday by National Chengchi University's Election Study Center, surveyed people aged 20 or older. It had a margin of error of 2.96 percentage points.
Comments will be moderated. Keep comments relevant to the article. Remarks containing abusive and obscene language, personal attacks of any kind or promotion will be removed and the user banned. Final decision will be at the discretion of the Taipei Times.